What's The Difference In Hiring A Virtual Assistant Vs. A Remote Executive Assistant?

Key Takeaway: While the terms "virtual assistant" and "remote executive assistant" are sometimes used interchangeably, they aren't the same. The differences come down to the complexity of tasks they can handle, the trust you can place in them, and ultimately what you'll pay to get the level of quality that you're looking for.
Not all assistants are created equal.
It's confusing, trying to decide between hiring a virtual assistant vs. a remote executive assistant. They sound almost the same, but the difference between the two can be significant—it usually comes down to the complexity of tasks they can handle, the trust you can place in them, and cost.
A virtual assistant typically provides low-cost solutions to easy, one-off tasks whereas a remote executive assistant will proactively look for ways to add value and enhance your efficiency (while effectively managing your schedule, inbox, and other complex or sensitive tasks.)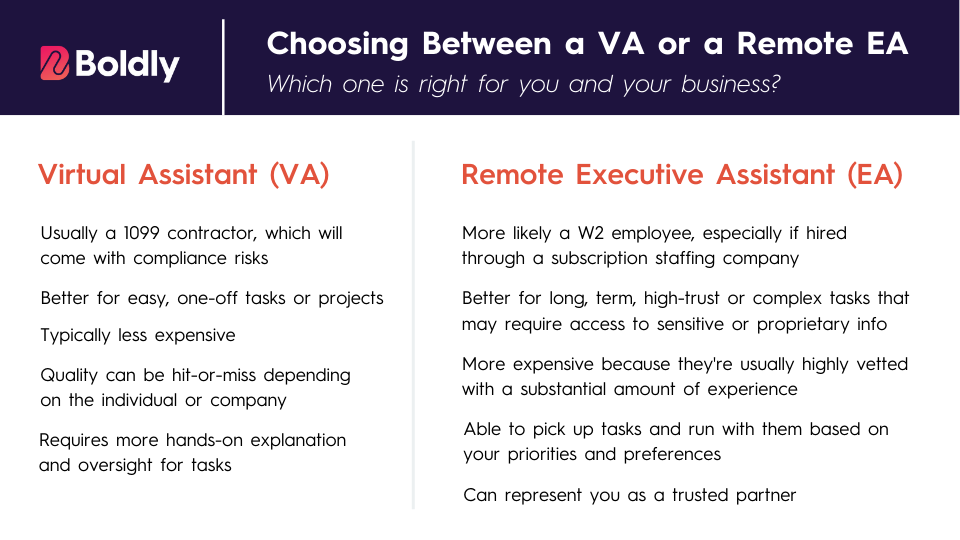 Here's everything you'll need to know:
Why Administrative Assistants Have The Potential To Energize Your Team
Maybe the thought of finding, training, and delegating work to an administrative assistant sounds like a hassle — and one that won't benefit your team enough to be bothered with it. Or maybe you're simply indifferent to the idea.
But a recent study by The Alternative Board might surprise you: the average entrepreneur spends 68.1% of their time working in their businesses on daily tasks and only 31.9% of their time working on their business.
In other words, you're likely pouring most of your energy into admin tasks like answering email or scheduling appointments instead of setting long-term goals and strategic planning. That's not to say that administrative tasks aren't important, but they're keeping your business from growing. You become task-focused instead of growth-focused.
A skilled administrative assistant can easily increase your productivity by 15–20%.
Most executives and busy professionals know they should be delegating these common tasks, but aren't sure where to start. They don't know what options are available for hiring an administrative assistant, or where to find a great one. They don't know whether they should turn to an executive assistant service or hire a full-time employee.
The Two Key Factors In Choosing Assistants
Before you decide between a virtual assistant or a remote executive assistant, there's a bigger decision to make. It has to do with your potential personal assistant's experience level and employment status.
Experience Level
Remote work and the gig economy have exploded in popularity. That means thousands of people are hanging out their shingles and declaring themselves some kind of professional assistant.
Whether they call themselves virtual assistants or remote executive assistants, the question for you is one of experience. Some may have extensive experience supporting C-level executives at Fortune 500 companies, and others might be fresh to the workforce and looking to get started.
The role of an executive assistant is a mix of complex tasks and personal tasks their executive needs. They might handle complex research, scheduling, travel arrangements, and client communication. These are not skill sets you can pick up overnight.
When choosing an assistant, their experience level is a critical consideration.
Employment Status
Backup assistants, personal assistants, virtual assistance—whatever you choose, how you structure their employment status is a huge concern.
Generally, remote assistants are either hired as independent contractors or brought on as employees (of either you or a staffing company). The contractor path is attractive if you don't want to bring on another full time employee, but it's a bit trickier than you imagined due to compliance risks.
Not only is there a compliance risk, but independent contractors don't always stick around for the long term. They're better suited for project-based work, not long-term virtual assistance.
Consider that common assistant tasks include access to your emails, your schedule, and your team. They'll be involved in aspects of your personal life and time management. They'll represent you to your clients, suppliers, and colleagues. That means you're going to be investing significant time, money, and trust in them. You'll want them to stick around for the long term, but that is often a problem with independent contractors.
Employees, on the other hand, are properly trained and receive the benefits of W2 employment. The compliance risk is gone, and they tend to be more reliable over the long term.
Virtual Assistant Vs. A Remote Executive Assistant: Which Are Best For Businesses?
Each company is unique, and that's why a virtual assistant or a remote executive assistant might work well for one, but not the other. What's working for someone else might not be ideal for your situation.
Let's look at how these two are most frequently defined:
Virtual assistants are administrative professionals working virtually as independent 1099 contractors or provided through virtual assistant services. Some virtual assistants are doing this as their "side gig" while others make this their career. They're typically a low-cost solution to completing easy, one-off administrative tasks.
A remote executive assistant is different.
They can be hired in-house or brought on as part of a team from a remote executive assistant service or subscription staffing company. They ought to be a W2 employee. They are administrative professionals who are highly organized and skilled in responding to what the C-Suite demands. They focus on supporting management and senior executives with consistency.
Time management, project management, communication, email management, travel planning, and scheduling are just a few of the common executive assistant tasks they can perform, but they can do much more. They may work with one or several clients.
Choosing Between A Virtual Assistant Or Remote Executive Assistant
You can see the subtle differences between a virtual assistant and a remote executive assistant. So how do you go about deciding which is right for you? Does it matter all that much?
We think it matters quite a bit.
The virtual assistance you get from one is very different from the other. To make it easy, we have five questions to help you decide.
1. Do you need a dedicated assistant for consistent communication?
A dedicated assistant is someone you work with long-term on all of your individual tasks. In contrast, working with a pool of administrative professionals means assigning tasks to the general pool without knowing who will do them. Some virtual assistant services offer a mix of both options.
The question for you is one of consistency and your ability to communicate.
With a dedicated personal assistant, you both learn how each other works and it takes less communication. With a pool, however, you have to fully communicate expectations and details every time. The skill sets found within the pool may vary, meaning the quality of work is also inconsistent.
Most remote executive assistants are dedicated to one or a few clients at a time and will work with those clients for the long-term. They understand expectations and adapt to communication styles. Because they will often have experience in complex tasks, they can fully support each client without relying on other outside resources.
When you're thinking about the type of solution that's right for you, it's important to look at the type of tasks you're going to assign.
If your tasks require insider knowledge about your business, a personal touch or knowledge about your preferences, a dedicated solution is your best bet.
2. Are you comfortable if they're in your emails?
How complicated or sensitive is the work you need your personal assistants to do?
If you're not comfortable with the thought of your current personal assistants in your emails, you probably chose the wrong virtual assistant services as your solution.
Busy professionals often stumble over the importance of understanding that complexity and sensitivity of tasks dictate which kind of personal assistants are best.
A lot of administrative tasks are more involved than they might look on the surface.
Some might deal with proprietary or personal information, or have significant potential to impact your company's reputation. Social media management, for example, sounds easy enough, until you realize it's a serious point of contact with the public and affects how your company is viewed.
Tasks that are easy for you to do might be very difficult to describe how you want them done, and to trust that they'll be done right. You might not even be aware of the assumptions you make about preferences or work style when you hand it off to someone else, meaning your expectations can't possibly be met.
For high-knowledge, complex, and sensitive tasks—the kind where a deep understanding of you, your personality, your goals, your team, and your clients matters—a dedicated solution is the better option for you.
It's also important to consider the sensitivity of your tasks.
Ordering office supplies seems benign, but you'll be sharing your credit card information. Are you comfortable tossing that to a pool, or would you rather have a dedicated assistant handling that? Now take that further, and imagine a random person handling personal information necessary for booking travel, reading and answering your emails, or working with clients you don't want competitors to know about.
Here's a general rule of thumb: if you're not comfortable with having your assistant in your emails, you probably need a dedicated assistant.
3. What do you expect for turnaround time?
Virtual assistant services that don't offer dedicated assistants often have longer turnaround times for getting your tasks done. Many don't require their virtual assistants to respond immediately, and they might not even have working hours that match yours.
Because remote executive assistants are a dedicated solution instead of a pool solution, turnaround is much faster.
While even your dedicated remote executive assistant can't promise 24/7 availability, most set a standard schedule with their clients as to when they're going to be online. They are dedicated to your specific needs and can give you near-immediate responses during those time windows.
4. What's your budget?
Using a shared virtual assistant, or working with a virtual assistant service that offers a pool to work from, is likely cheaper than a dedicated remote executive assistant.
There are other things that affect pricing as well, such as their experience level, how much access you get, promised turnaround time, or whether they're located in the United States or elsewhere. If you're working with a 1099 contractor, their hourly rate will vary.
Keep in mind that not every virtual assistant service vets their employees at the same level—meaning experience and skill sets vary wildly—and this is also reflected in pricing.
On the other hand, here's how much an executive assistant costs and how to calculate the ROI of this admin investment.
Boldly's executive assistants have an average of 10+ years of experience and many have worked for Fortune 500 companies. Because of that, companies like us will have a higher hourly rate. However, because you're working with a dedicated fractional executive assistant, it's still going to be a more cost-effective option than hiring someone of the same caliber in-house.
5. Do you need an assistant for short-term projects or long-term support?
The final question to ask yourself is how long you'll need your assistant.
If you need short-term or project-by-project support, you can choose from a variety of different gig-type options for virtual assistants (e.g. Upwork).
If you're looking at long-term support, though, a dedicated remote executive assistant is what you need. And because you're looking long-term, you need to be sure the virtual assistant service you get your assistant from is retaining them long-term.
In other words, find a company that has a reputation for taking great care of their people. They should employ them as W2 employees with competitive pay and benefits, and be dedicated to retaining great people. Glassdoor is a good place to start that research, as are client testimonials.
Where To Find A Great Virtual Assistant
At this point, you probably know what kind of assistant will meet your needs — now where can you find the best virtual assistants?
If you're looking for a quick overview, here's our list of the best US-based virtual assistant companies and some tips for choosing the best virtual assistant.
Another great place to start looking is virtualassistantassistant.com. It's a site that has real reviews from clients on a wide range of virtual assistant companies, including cost comparisons and descriptions of the strengths and weaknesses of the most popular VA companies.
Where To Find A Great Remote Executive Assistant
If a more permanent, high-quality solution is what you want, you'll be looking for a dedicated remote executive assistant.
You can either begin by posting the job and recruiting/hiring your remote EA in-house, searching through remote staffing agencies, or you can check out subscription staffing from Boldly. No matter what route you choose, you'll want to make sure to find an executive assistant you can trust.
Boldly is a unique solution to hiring quality remote talent that lets business owners and executives subscribe to incredibly talented assistants for one simple monthly payment. They can get access to Fortune-500 trained talent for key roles for the long term.
This actually solves three problems when looking for a dedicated remote executive assistant:
You won't need to recruit and hire on your own. On average, it costs over $4,000 to recruit, and almost $2,000 to train a new in-house employee, on average. That's before paying any salary.
Your assistant will be around for the long term. Our team members have flexible, stable, W2 employment with benefits, and a company focused on their happiness and retaining them for the long term — and more than double the industry average.
Your assistant is of the highest quality. You'll get to work with someone who has been thoroughly vetted and has more than 10+ years of professional experience as an executive assistant.
Premium subscription staffing is getting popular precisely because more leaders demand these advantages: the flexibility to scale quickly at a lower cost, and without the hassles of recruiting and hiring.
Whichever Solution You Decide On…
Whether you decide on a virtual assistant or remote executive assistant, outsourcing your administrative duties is a step in the right direction.
Handing off these tasks is the best way to regain your time and focus on growth and the future of your business while knowing day-to-day operations aren't suffering.
How you do that, and which choice you make, depends on careful consideration. If you're interested in learning more about subscribing to your next remote executive assistant, get in touch here.
Updated on February 7th, 2023