The Best Virtual Assistant Companies In The US Ranked For 2023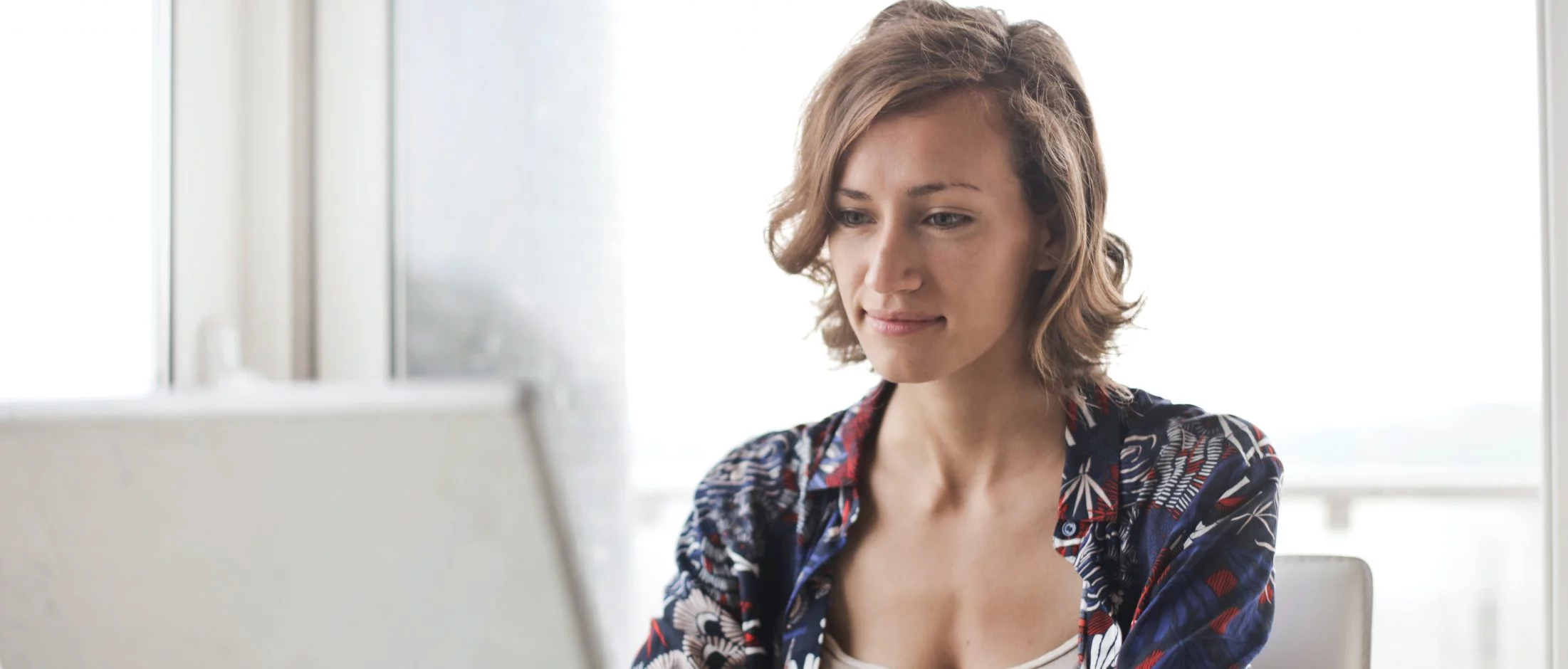 If you're looking to hire a virtual assistant, congratulations!
Busy entrepreneurs and executives have discovered that bringing on a VA is a great way to free up their time and hand off administrative or repetitive tasks that can draw their focus away from strategic work that will grow and improve their business.
You may have also noticed there is no shortage of assistant companies to choose from. The top virtual assistants want to work for the best virtual assistant companies, but sifting between all of these can be a challenge.
If you're a US company or executive looking for remote assistants, the list below outlines the most highly-rated companies to start your search.
The Best US-Based Virtual Assistant Services of 2023
We'll also cover a few virtual assistant FAQs, like:
Before we begin: Some VA companies will match you with a 1099 contractor. Turnover can be higher at these agencies but they are often a great solution for project-based work. Relying on contractors for ongoing support may put you at risk for legal compliance issues.
1. BELAY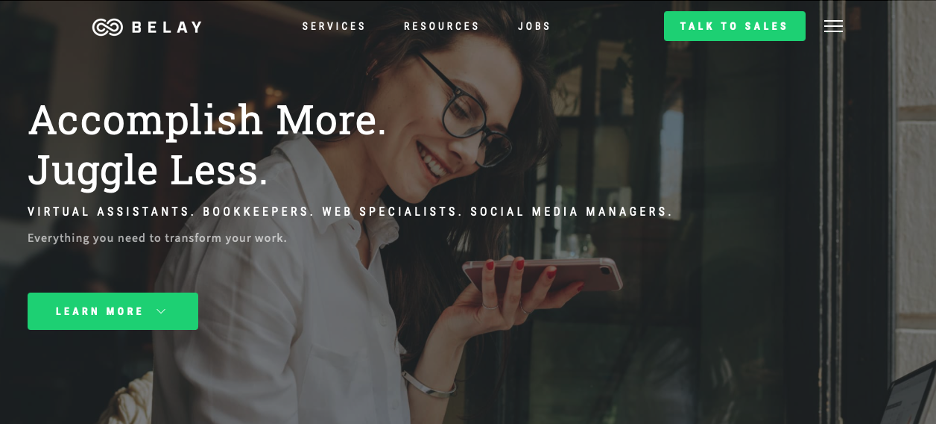 Snapshot:

BELAY is a virtual assistant company headquartered in Atlanta, Georgia with nearly 1,200 team members in 48 states.

Services: Their VAs typically have 5+ years of experience and can help with various tasks like: travel arrangements, marketing support, calendar management, project research, social media management, data presentations, recurring tasks, first impressions and voicemail, email management, and more.
Process: BELAY personally matches clients with a contractor VA that will fit their needs. They offer a dedicated virtual assistant service, which means you will work with the same VA consistently. You will also be offered a relationship manager, who will help you with any outside needs that may arise.
Why They Stand Out: BELAY is big on company values, well-rated, and well-established. With 12 years in business, their client list and team have steadily grown.
Pricing: Pricing starts at $1,380 per month plus a startup fee, but can vary based on client needs so it's best to contact their team for a direct quote.
You can learn more about Belay here.
2. Boldly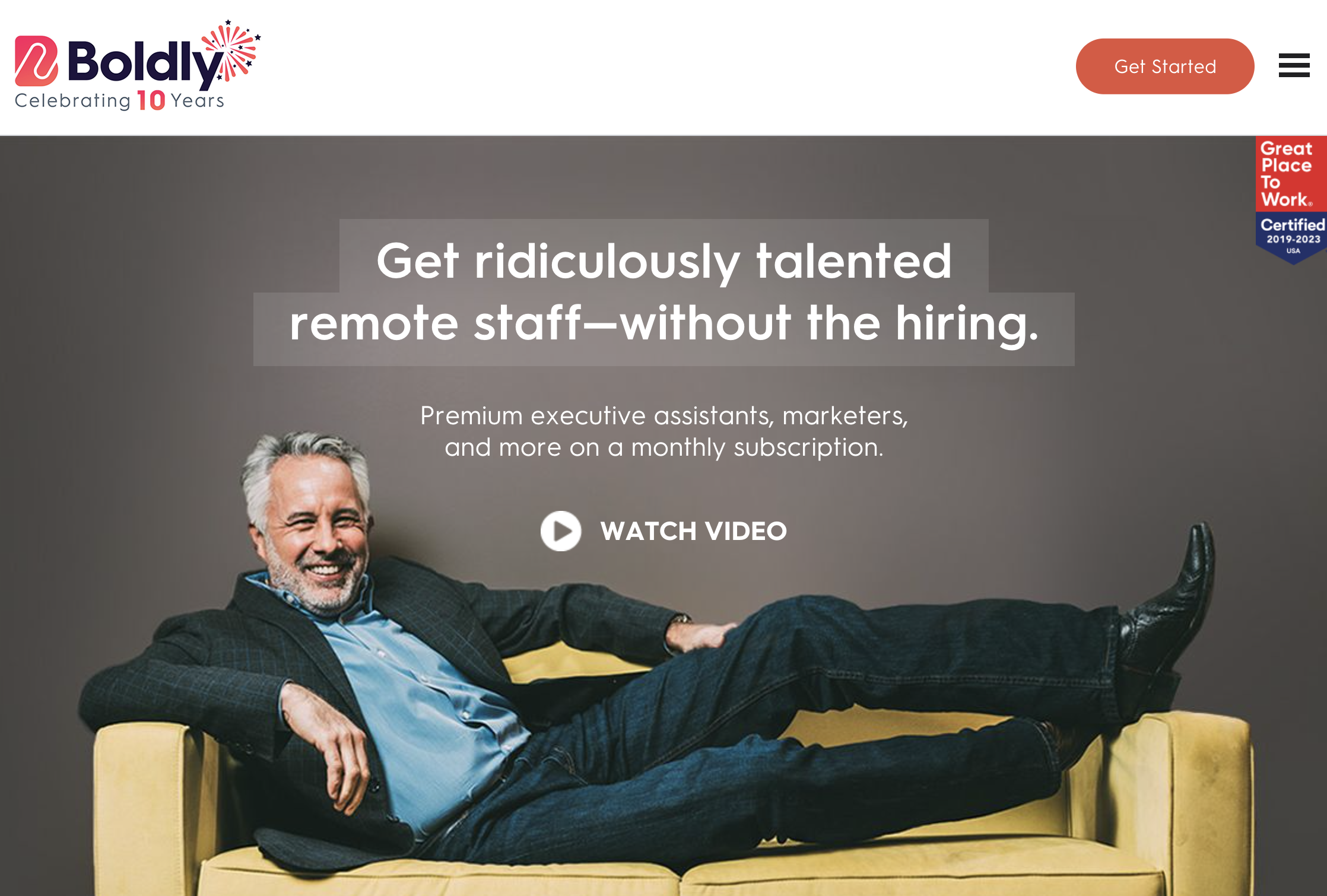 Snapshot: Boldly is a premium subscription staffing company with employees in the US and UK — a higher-end alternative to virtual assistant staffing agencies. Companies turn to Boldly when they need highly experienced, long-term support on a fractional basis.
Services: Boldly provides ridiculously talented, premium executive assistants on a flexible monthly subscription, enabling clients to avoid the hassle of recruiting and the costs associated with hiring employees. Boldly staff have a wide range of work experience at Fortune 500 companies, a wide variety of expertise, and are available Monday through Friday, for as few as 40 hours per month.
Process: Boldly takes a highly curated, personalized approach. After sharing your requirements, Boldly sets up a short, productive meeting with your dedicated account manager to ensure they suggest the right staff member that will match both you and your business. You will get a chance to review your candidate's profile and meet the staff first to make sure it's a good fit before you sign up.
Why They Stand Out: Great option for demanding execs that can spend a bit more for quality, longevity, legal compliance, and flexibility. Boldly's hiring process is thorough. They retain their US-based talent with W2 employment, benefits, and a thriving, supportive work culture. As a result, you can count on your dedicated assistant to be part of your team for the long term. Boldly also offers a buy-out program should you want to hire your assistant full-time down the line. Boldly has been rated as a Top Inclusive Workplace, Great Place to Work, Fortune's Best Company, and more.
Pricing: Boldly offers flexible staffing – subscribe to one or multiple dedicated staff (like a fractional executive assistant), for the number of hours you need them each month, without a contract. Pricing starts at $2,200 for a 40 hours per month plan with a 100% satisfaction guarantee. You can choose and adjust our monthly plans based on changing needs.
Learn more about our services at Boldly here.
3. Prialto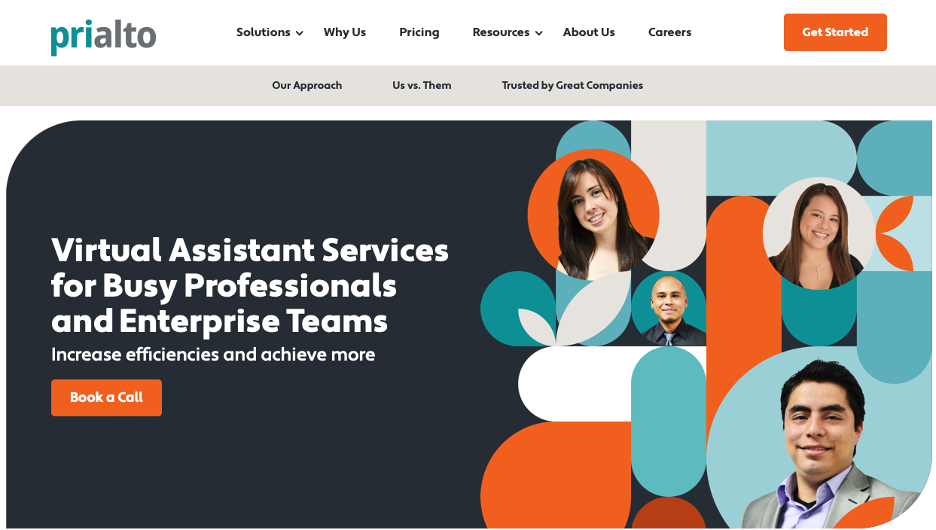 Snapshot: Although

Prialto is managed from a headquarters in Portland, OR, its workforce is not based in the United States. Prialto works with English-speaking staff in Asia and Central America, however, regardless of the location of your VA team, they do offer support during the client's business hours and hire their workers as employees.

Services: Prialto provides individuals, teams, and enterprise organizations with a team (a project manager, primary assistant, and backup assistant) of virtual assistants who can take on a variety of administrative tasks. These include everything from digital marketing to sales to operations to admin support.
Process: The Prialto team onboards clients with a discovery needs assessment, assigns your support team, and then improves their service via an engagement manager over time.
Why They Stand Out: Prialto boasts over 10 years in business with over 1 million clocked hours of professional support. They also invest in training and continuing education for their VAs.
Pricing: Prialto prices its services in "units" that equal a fixed number of monthly support hours. Individual rates begin at $1,350 for 55 hours per month plus a $250 setup fee while team rates at $4,050 for 165+ hours per month.
Learn more about Prialto here.
4. Fancy Hands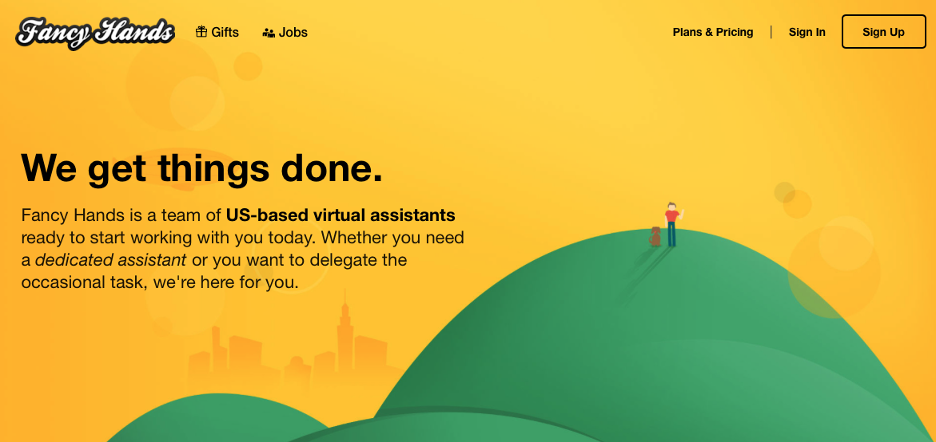 Snapshot:

As a startup, Fancy Hands got a lot of early attention by cranking through long to-do lists with hangover tasks. As generalists, they're an easy entry into working with personal virtual assistant services.

Services:Their team of U.S.-based virtual assistants help with simple tasks like scheduling, personal shopping, research, making calls, customer service, and more.
Process: While they offer dedicated support, their bread and butter is a pooled team instead of a dedicated assistant. This means you send tasks and someone on their team performs them with a quick turnaround. You mainly communicate through their web app, but you can also request tasks via text messaging, or assign recurring work.
Why They Stand Out: This service works best for clients who know what they want, or have specific one-off requests like arranging travel or other personal tasks.
Pricing: With rates starting at $17.99 per month (for 3 tasks that take an average of about 20 minutes), Fancy Hands stresses affordability and bases their pricing plans on your total number of "requests" per month.
Learn more about Fancy Hands here.
5. Time Etc.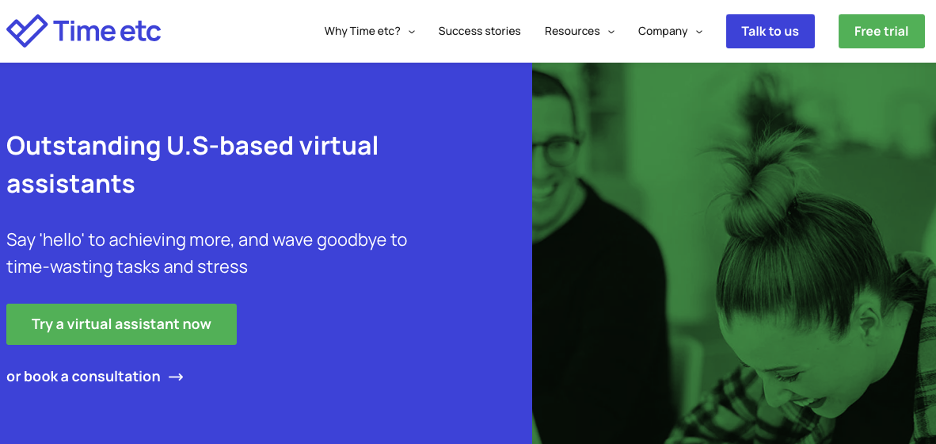 Snapshot: Time Etc is both UK and US-based, hiring only college-educated VAs and personal assistants.
Services: Their VAs help by managing email, coordinating schedules, doing data entry, formatting documents, cataloging expenses, and receipts, updating social media, and more.
Process: Time Etc. offers both a dedicated VA option (you work with the same person consistently) or you have the option to match your work with a VA on their team you believe might be best suited. And like Fancy Hands, Time Etc works through a virtual platform that allows clients to assign tasks via a dashboard and mobile app.
Why They Stand Out: Time Etc is one of the lowest-cost VA staffing companies and can be a great option if your budget is tight and you need support with simple, one-off tasks.
Pricing: They offer pricing plans starting at $310 for 10 hours per month, beginning with a free trial, and a money-back guarantee.
Learn more about Time Etc here.
6. Zirtual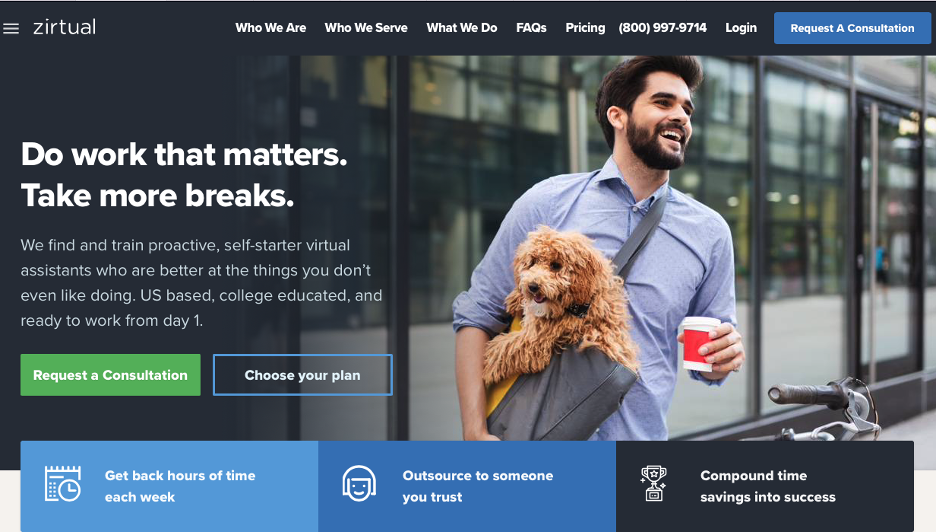 Snapshot: Zirtual is part of the Startups.com platform, and offers US-based, dedicated, and college-educated virtual assistants.
Services: Zirtual's team can handle tasks like scheduling, event planning, travel booking, invoicing, data entry, and research.
Process: When you get in touch with their team, they will match you with a virtual assistant they feel will best suit your needs, and you'll work with that VA one-on-one.
Why They Stand Out: While Zirtual pairs you with a best-fit virtual assistant, they also share the workload for specialized tasks, like social media marketing. If your VA can't handle a specific task, they have help from teammates or can even hand it off entirely.
Pricing: Zirtual's pricing plans range from 12–50 hours a month, with their 12-hour plan starting at $549.
Learn more about Zirtual here.
Are US-Based Virtual Assistants Better?
Where a virtual assistant is located doesn't automatically mean they're better or worse. We've spoken with VAs around the world who are excellent at what they do!
Some advantages to having a virtual assistant in the United States:
It's easier to find someone working in your timezone
Easier to communicate, with fewer things lost in translation
They're often already familiar with your tools and processes
Navigating international labor laws and tax regulations can be tricky
Bringing on any new assistant comes with a high degree of uncertainty, no matter where they're located.
What matters far beyond location is how much time you have to assess these contractors and companies to vet the experience level/quality of their assistants. This is all on top of the added burden of ensuring you're legally able to work with them.
Whether you're working with a US-based company or not, you're likely liable for employment compliance (unless it's a subscription staffing company). This is especially compounded when working with international freelancers or contractors!
Should I Use Freelancers Through Sites Like Upwork?
On a similar note, there are gig sites like Upwork and Fiverr.
Find the right person and you'll reap the benefits. However, finding a VA you can trust is a tall order. There are plenty of things you'll wish you knew before making this key hire.
Thanks to the gig economy, a quick search through sites like Upwork shows thousands of individuals claiming to have virtual assistant skills and experience from around the world. Hourly rates vary, but many will work for less than $10/hr. However, sifting through a huge pool of applicants, vetting the top candidates, and ensuring that they are the right fit can take months.
If you're considering using a freelancer for a VA, we recommend beginning with word-of-mouth referrals — ask who your network uses and start there!
On the other hand, a highly-rated virtual assistant company has done all of this for you, making it an easy place to start for just a slightly higher cost. The most trusted VA companies offer some type of money-back guarantee.
It's important to note that most the virtual assistant companies listed above (as well as freelancers) work as 1099 contractors.
While businesses often appreciate the flexibility and cost savings afforded by working with 1099s, you'll need to familiarize yourself with compliance concerns.
5 Reasons Management Might Want To Use Contractors
Quick access to specialized skills and experience
Some contractors are highly specialized, so they often require less training
Flexibility in cost and time commitments (no long-term contracts!)
No need to pay for health insurance, 401(k), vacation time, or other full-time assistant benefits
Contractors typically provide all their own equipment/tools needed for a project
Going Beyond The Task List: The Risks Of Using Contractors As VAs
When you don't need full-time virtual assistants, using an independent contractor seems ideal. However, there are some serious risks attached.
Contractors are often looking for their next gig, which could put you in a lurch if they're suddenly not available
The quality of contractor work is highly variable — you'll need to sift through potential contractors and determine if they're the right fit
It can be tougher to fire a contractor than an employee. Your ability and legal right to fire them depends on having a signed contract or statement of work
You cannot dictate when, where, or how contractors work without risking employee misclassification
Misclassification of employees, even if it's unintentional, can cost dearly. If found guilty of misclassification, employers are responsible for all past payroll taxes, unemployment taxes, plus interest and penalties.
This is just one of the reasons we always recommend hiring remote executive assistants as W2 employees.
Flexible Pricing And Immediate Access To Next-Level Virtual Assistants
So, how do you find the best virtual assistants?
It really depends on what you need, but the subscription staffing model has changed the virtual assistant game.
Now, you can subscribe to the exact number of hours you'll need from your dedicated assistant staff member each month.
In addition, your unique requirements from skills to experience to culture fit are taken into consideration. This allows senior executives to be matched with administrative assistants with the perfect fit in skillset and chemistry.
Subscription staffers are also the best tenured, often Fortune-500 trained with 10–15 years of industry experience on average. And they integrate fully into their clients' team, working with them one-on-one on a long-term basis. (There are even full-time options available.)
Better still, subscription staffers are W2 employees of their company. This removes every compliance liability associated with contractors.
For executives who want remote support from professionals who can handle more than basic administrative tasks, or remote team members who can integrate into your business for the long term, consider Boldly's subscription staffing.
Subscription staffing began taking shape in 2019 and is now used by companies like Apple, Facebook, Zendesk, Asana, and Google to fill fractional roles with highly-experienced remote staff.
Get started with subscription staffing here.
Topic: Remote Executive Assistant
Published on February 14th, 2023