How To Choose The Best Remote Staffing Agency With This Simple Scorecard

Wouldn't it be nice if every job candidate came with a ready-made scorecard? A list of haves and don't-haves that showed you exactly who is the right fit for you?
While the traditional hiring process is never this straightforward, choosing the best remote staffing agency can be.
After working with hundreds of clients… Fielding tens-of-thousands of applications… And being remote-first from the start…
We've whittled down the considerations to choosing the best remote staffing agency for your situation into a 7-question scorecard.
To start, let's quickly define what a remote staffing agency is and how they're different from other hiring methods.
How Is An Amazing Remote Staffing Agency Different From Alternative Ways To Hire?
As shared in part one of this series, remote staffers are skilled W2 employees of the staffing company who are assigned to work with you long-term for the exact number of hours you need each month.
For quick reference, though, here's what makes remote staffing unique. It differs sharply from other hiring avenues — like temp agencies, outsourcing, or freelancers.
While temp agencies provide dedicated staff, they're often workers in transition with minimal experience. The best remote staffers are Fortune-500 trained and have made a career out of remotely supporting high-caliber clients.
Outsourcing, while inexpensive on paper, can actually cost up to 60% more because of spotty communication and work that needs to be redone. Remote staffing agencies by contrast are well-trained and have proven communication processes in place.
Freelancers are widely available but rarely provide compliant solutions — they also don't offer back-up support when out-of-office. An amazing remote staffing agency offers 100% compliant solutions removing the risk of employee misclassification and support when your team members are on vacation (or even out sick), so you're never without quality help.
Now that you know how remote staffing is different, what separates the best agencies from the rest of the pack?
The Remote Staffing Scorecard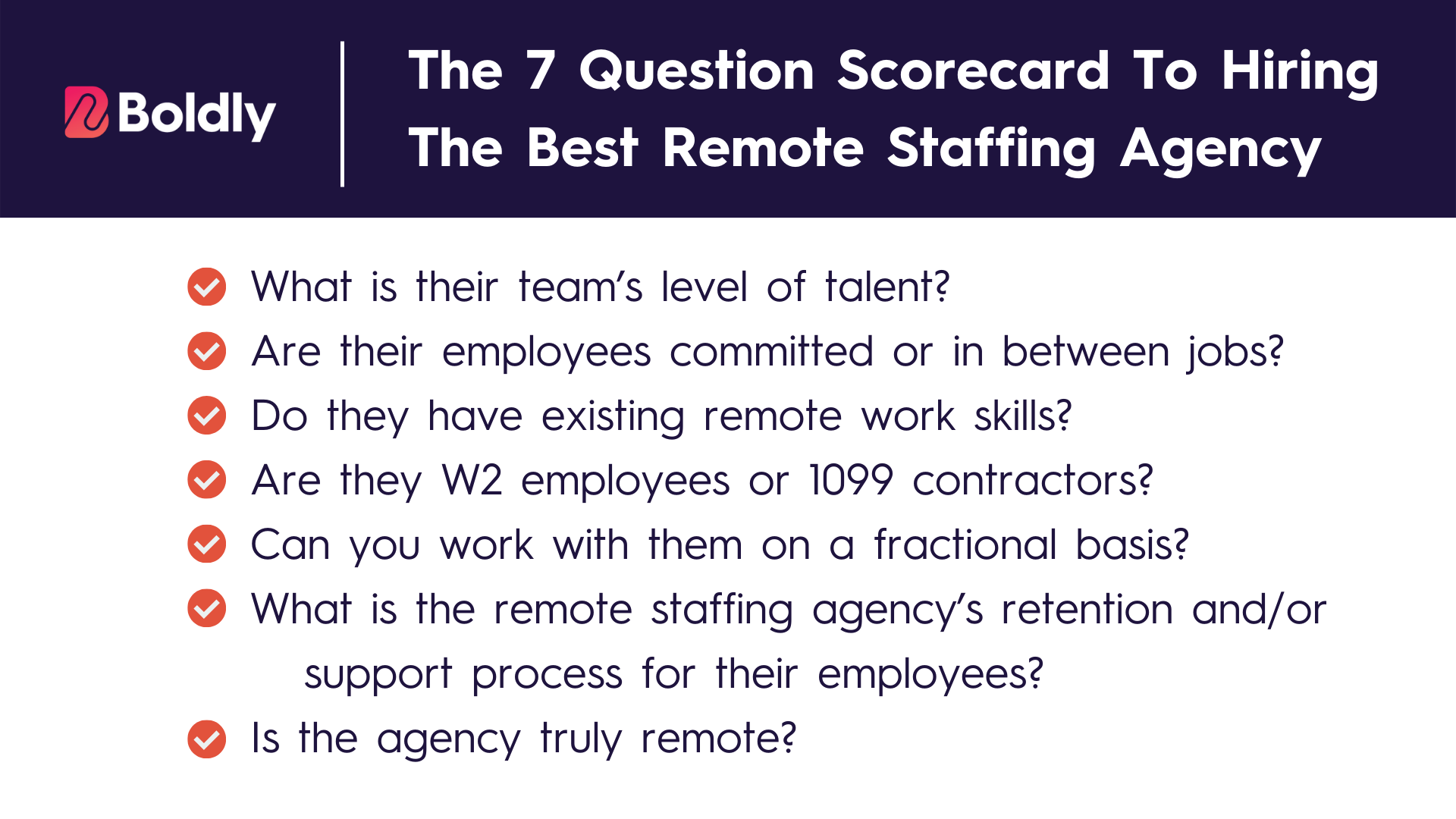 When comparing remote staffing agencies, ask these questions about each. The answers will provide a quick filter for who can best support your growth (and make your life way easier!).
1. What Is Their Team's Level Of Talent?
Everyone wants rockstar talent. But how can you get it every time?
This is where a remote staffing agency's hiring standards come into play. Obviously, none of us would pick a subpar bank, accountant, or attorney. You shouldn't settle for subpar remote staff, either.
The best agency will have top-shelf executive assistants, project managers, and marketers. And this means their team members typically have:
10–15 years of experience in your industry (or closely related discipline),
Master's level education and professional certifications,
Experience in remote-only roles,
Multi-lingual support (from French to Spanish to German and more!),
And excellent attitudes fueled by a passion for their work.
2. Are Their Employees Committed Or In Between Jobs?
Reliability and continuity are key for remote staffers, as well. Even if they're not on your HR roster, you want team members who will contribute for the long haul.
So, learn the average tenure of a remote staffing agency's employees. Are they in and out in 6 months? Or are they there 6 years (or more)? What actions are the staffing company taking to develop and retain their team?
Low turnover is an attractive quality that speaks to both employee dedication and remote agency culture.
3. Do They Have Existing Remote Work Skills?
Newly remote employees commonly struggle with lack of face-to-face supervision, trouble accessing the right information, social isolation, managing distractions at home, and more.
While many traditional staffing companies offer remote working options, their temps or team members lack substantial experience. And during this period of COVID-19 where remote work is mandatory, many staffing companies are offering remote staff by default but who only have in-office experience. In comparison, genuine remote staffing is truly remote-first. This means the team members deployed can quickly onboard and work seamlessly just like an existing company employee.
They'll be equipped with the technical setup and aptitude. They'll understand how to measure their performance. And even better, they will understand how to communicate both in real-time and asynchronously with internal staff as well as your customers.
Remote communication requires supreme clarity and foresight. True remote staffers thrive because they're expert communicators who see the big picture and think ahead. In fact, they almost have a sixth sense to see potential issues before anyone else does.
Simply put, existing remote work skills are non-negotiable.
4. Are They W2 Employees Or 1099 Contractors?
Why should you care whether a remote staffing agency's employees are W2s or 1099s? After all, if they've done the work to vet their aptitude, does their official relationship matter?
Yes — because if you plan to use a remote staff member who is a 1099 contractor on an ongoing basis then you are at risk of employee misclassification. Why? Because despite being paid by the staffing company, you are considered a co-employer and you are exposed to exactly the same risk, sometimes more, given that the contractor is actually doing work for you. If the contractor is based in California this is of paramount importance given the introduction of California's AB5 law that came into effect in early 2020.
W2 employees receive paid holidays, benefits, competitive salaries, and employment protection!
This makes their employment situation more stable; therefore, your working relationship with them is more stable. Because 1099 contractors are often free agents that come and go, you rarely receive the benefit of longevity.
In essence, this makes working with an agency that only hires contractors little (if any) better than working directly with freelancers.
In our experience, hiring W2s has resulted in a 3 year average working relationship with our team members and clients – a retention rate that's nearly double the executive assistant industry average.
Additionally, depending on your legal requirements, it's difficult for 1099 contractors to quickly become compliant. But because of W2 remote staffers' legal status with a compliant agency, they're the perfect fit from day one.
5. Can You Work With Them On A Fractional Basis?
Wouldn't it be nice to work with premium remote staff for just the hours you need?
Working with a remote staffing agency on a fractional basis allows you to easily scale up or down. We call it subscription staffing, and it lets companies "subscribe" to talented, impeccably trained, and hand-matched remote staff. And it helps you tightly control costs and scale quickly.
What happens when you experience growth? Level up your hours or even add additional staff in key areas like customer service, bookkeeping, personal support, and plenty more positions.
6. What Is The Remote Staffing Agency's Retention And/Or Support Process For Their Employees?
Voluntary turnover costs U.S. companies over $1 trillion per year — with the average cost of replacing an employee ranging from one-half to two times their salary!
Even if your remote staffers aren't on your payroll, losing team members is still costly. After all, they get to know your business, process, systems, customers, and team. If they leave, this puts you at ground zero, starting all over again.
So ask about the average retention rate of their employees. And to predict that rate in the future, dig into how they support their employees. Support directly impacts culture — and positive culture drives retention.
Supportive leadership, paid time off, and a focus on social connectedness all play their role. So don't overlook the culture factor.
7. Is The Agency Truly Remote?
Finally, as unpacked in question 3, remote work is a specialty.
There is a huge difference between agencies offering remote options by default and those that are remote-first.
Remote-first means an agency intended to be remote from the start. Remote-by-default means an agency was pigeonholed into the decision (with situations like the COVID-19 pandemic, for instance).
Remote-by-default agencies have virtually no role in managing your assigned staff. Plus, they may not have the remote skills or experience that remote-first agencies like Boldly do.
Ready To Take The Next Step?
Nothing is as important as the people on your team. So ask and thoroughly answer each of the 7 questions on this scorecard to find the best remote staffing agency for you.
If you're ready to hire ridiculously talented remote staff right now, click here to start a conversation.
For a comprehensive look at remote staffing, read the first two posts in this series:
Topic: Remote Staffing
Published on December 20th, 2022