Working Boldly: A Day in the Life of Stacy Baker,
Business Support Specialist

In competitive fields like tech and finance, it's not uncommon to find employees clocking 60 hours (or more) of office time per week.
This is the typical 9-to-5 drudgery so many are used to. At Boldly, though, we were founded on this principle: there's a better way to work where everyone can win, clients and employees alike.
Today, over 100 of us enjoy a dream career we never knew existed. We experience work-life integration, have escaped long commutes and evening catch-up work, and have said our goodbyes to work that overruns life.
At the same time, we're able to work with world-class companies like Apple, Facebook, Zendesk, Asana, Google, and more!
Just as wonderful, we're a remote-only team. How do we do this?
Through a first-of-its-kind model we call premium subscription staffing.

Instead of hunting for freelance gigs or spinning wheels on one-off projects so that we can work remotely, we're W2 employees with benefits, top-industry pay, and serious careers. We support clients that are looking for long-term, Fortune500-trained talent with a deep bench of experience.
Working Boldly with Stacy Baker
Instead of just telling you though, we want to show you.
So, in this series, we pull back the curtain so you can get a glimpse of the new way to work.
We spent some time with Stacy Baker to find out what a day in the life of a business support specialist really looks like!
Meet Stacy and her Office Interns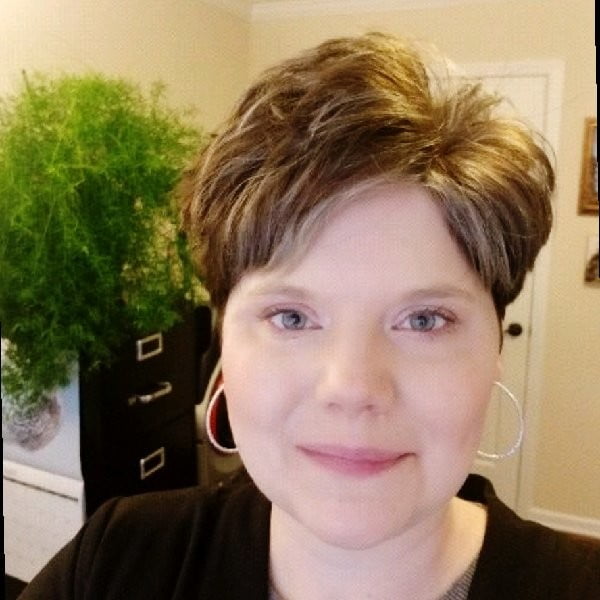 Stacy Baker
Business Support Specialist
Location
In the foothills of the Appalachians in Virginia
Education:
Western Governors University
Master of Science, Management & Leadership
The University of Virginia's College at Wise
Bachelor of Arts, English Language and Literature
Wise County Chamber of Commerce
Forward Wise County Leadership Development Program
Professional Experience: 19 years
Office Interns: Four cats!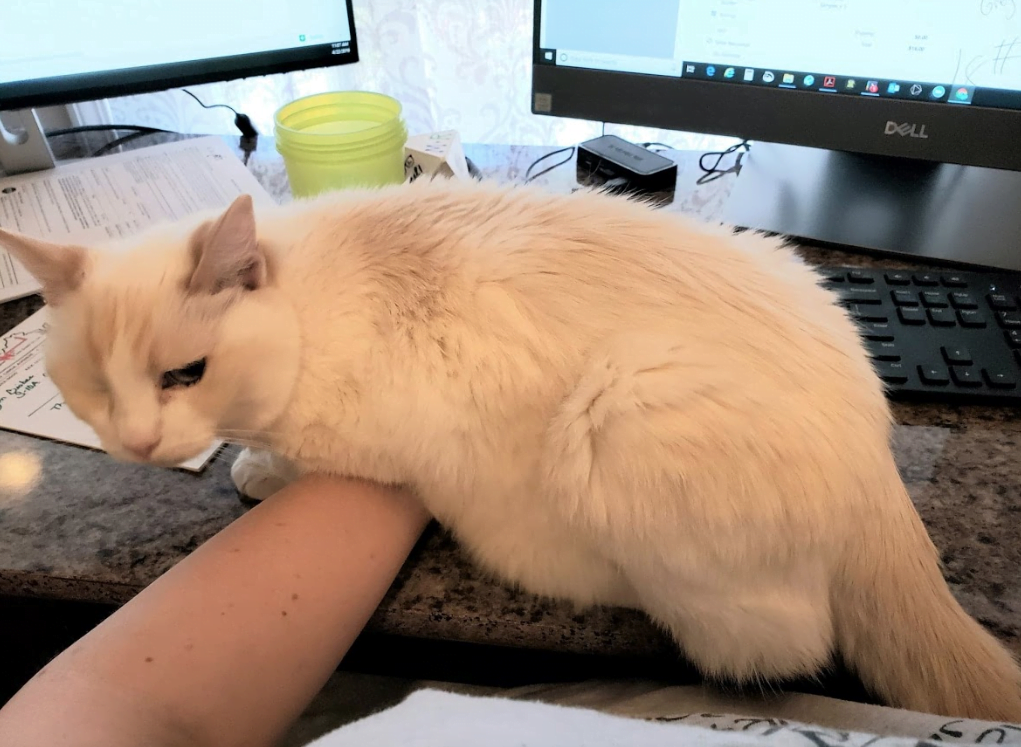 A Day in Stacy's Life
6:00 a.m. Get up early, make a plan for the day, review to-do list, set time blocks, and schedule life!
7:00 a.m. Follow-up on outstanding items, email management, schedule appointments, social media management.
9:00 a.m. Research, order tracking and updates, coordination with vendors and clients, assist with client contracts and presentations. There is tremendous variety in the work, so this looks a little different every day.
12:00 p.m. Lunch with her husband (she was unable to do this before!).
2 p.m. Run errands, attend appointments or spend time fulfilling another life commitment.
4 p.m. Send daily update emails (summary of work performed and outstanding items), Prepare and prioritize to-do list for the following day.
Meaningful Work and Constant Learning
To start, we wanted to know, what does a Business Support Specialist actually do?
"In my case, as a Business Support Specialist, I work with three high-level interior designers," Stacy said. She helps them with a little bit of everything, saying, "I do email management, schedule meetings, handle purchasing, track orders, social media management, and have even helped write some of the language in their contracts."
Stacy's background is in architecture, engineering, and construction, so since joining Boldly, she's moved inside the building into the world of interior design.
"They're so creative and have wholly different personalities from where I came from. Architecture and engineering were far more formal."
This has given her the chance to learn and be challenged every day. "Interior designers are like butterflies. They're beautiful, creative, and wonderful, but you cannot pin them down! They do great work as a result."
She quickly learned how different the world of interior design was to architecture, she says, "Until I immersed myself into their businesses." And this has built incredible trust, with her clients asking her to know everything going on in their business so they can focus on their strengths.
Stacy started supporting a single interior design company, but quickly the relationship blossomed so much "My first client actually referred another interior designer to Boldly and they wanted me to support them too." Soon after they began working together.
Because the world of subscription staffing works differently than any traditional model, Stacy explained what's unique about Boldly's client-pairing process.
Growing with Your Clients and Team
"Boldly's Client Success team meet with new clients to find out exactly what skills they need and the kind of person they'd like to work with. Then, because they know all of us on the team so well, they're able to suggest which clients and which team member might be a good fit, likening it to matchmaking. We decide first if we'd like to be put forward, and then the client is offered a few different team members to work with. Then, if the client is interested, we get together for an initial call to decide if we'd like to work together."
To Stacy, though, the real magic is in how she's empowered to work with best-fit clients.
"We're able to say, 'I don't think this would be a good fit.' And this is huge because you don't get that in other areas or jobs."
And the reason Boldly employees work with such autonomy?
"This is an elite team," Stacy said. "Whenever I have questions, there's always someone I can reach out to because someone on the team will have the expertise I need. If you're not an expert at something particular, that's okay! We have people who can teach you." Today it may be Stacy reaching out for advice, and tomorrow it may be another team-member reaching out to her.
For Stacy, she's able to contribute to high-level clients and work with team-mates that are keen to support each other. At the same time, her work-life seamlessly weaves into her personal life. Rather than a continuous, frantic juggle of work and family, she's able to have time to give both her full attention and effort.
How Have Things Changed?
"At my previous job," Stacy said, "I was expected to respond to emails at 8 o'clock at night."
In the business world, this is a widespread story. According to a recent study published in the Academy of Management Proceedings, checking work communications (like email) during non-work hours increases anxiety, decreases well-being, and even harms an employees' significant others' health.
William Becker, the study's co-author, explained: "The competing demands of work and nonwork lives present a dilemma for employees, which triggers feelings of anxiety and endangers work and personal lives."
Today, however, the expectations of Stacy are exactly the opposite. The Boldly way of working is to have clear boundaries and to support clients in defined blocks of time. "As my team leader said, 'You don't always have to have your notifications on. Support your clients, but also take care of you.'"
In the US, this is not the norm. Surprisingly, only 23 percent of US employees take all of their eligible vacation time each year. However, even those "on vacation" are actually taking "work-cations," meaning they're checking email or squeezing in catch-up work between beach visits or meals with their families.
For Stacy, not only is the encouragement to be truly off-the-clock important, but the benefits have surprised her as well. "The benefits are great, so you get plenty of time off, including holidays. I mean, who works part-time and gets paid holidays?!"
This was a welcomed seachange and has paid dividends for her. And for her, showcases what the culture here is really like.
"At my old job, my mind was constantly on my work at all hours. Here, everything is a little more relaxed. I want to do a good job, and Boldly expects me to do a good job," Stacy said. "I feel empowered to do my work my way."
Beyond Core Values and Catchphrases
Any company can put a positive spin on their culture. Websites across the web are peppered with attractive core values and lofty catchphrases. However, Stacy is able to quickly see through any facades.
Stacy explained, "While working through my master's degree, I studied organizational culture. As I did, I realized the culture of my previous organization was not where I needed to be, and that the ideal organization actually is Boldly."
Every day, she sees (and is a part of) the Boldy values in action. For her, "Finding Boldly was like this fairytale. Their support is the biggest deal to me. I could work anywhere, but they want me to work from here."
Work-Life Integration
Location is very important in Stacy's life, as her husband is a disabled military veteran and they live near his doctors and medical facilities. He is a former Marine, diagnosed with multiple sclerosis (MS) in the early 2000s.
"Since the diagnosis," Stacy explained, "his health has declined, and it's been good mentally for him for me to be home."
Every day, they have lunch together; something they were previously unable to do. Now, says Stacy, "I have the freedom and flexibility to take my husband to doctor's appointments."
Feeling Valued
Above all, Stacy says she feels valued by her clients and team alike.
"Boldly sent me a gift for my birthday in March, send quarterly reimbursements toward office supplies and internet usage, share the hug-in-a-mug, and show they care through constant connection. Even our founder Sandra's dog "sends emails" once per month!"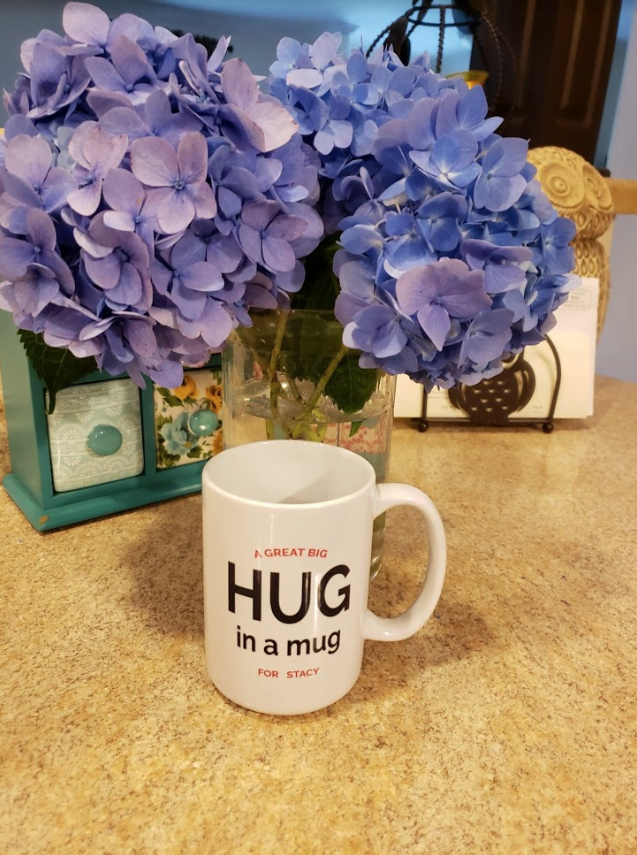 Overall, Stacy says, "It's a better world now. Boldly is not just a company, it's really a place to feel like you can grow and be part of something really great…that's making a difference with a company that really cares about you."
One of the contributing factors, Stacy believes, is that Boldly is women-led. "The architecture and engineering industries I came from are male-dominated. So I wanted to find a company that highly-values women—this is it."
The day she interviewed for this position, she recalls being interviewed by Sandra, and staring at a quote framed on her wall: "You are powerful beyond measure."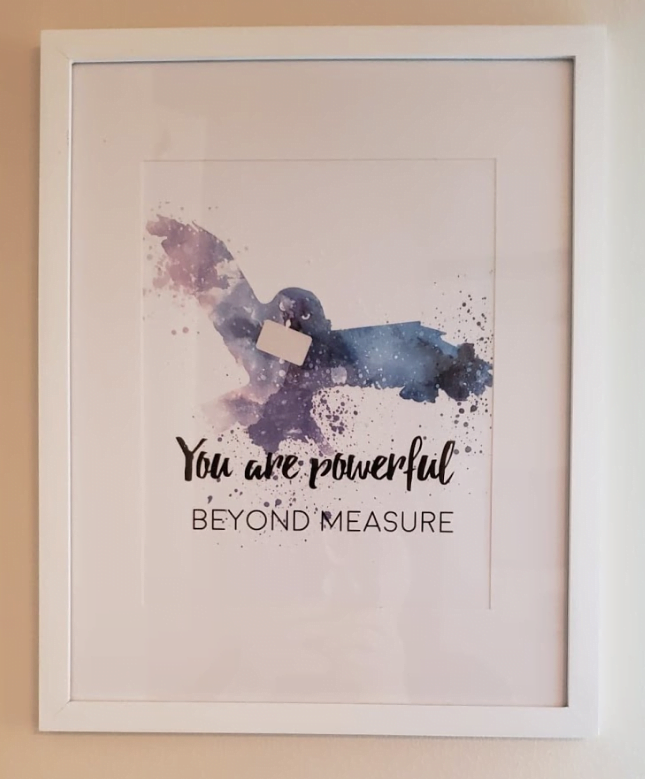 "I look at it every day," she says. And it reminds her that her work matters, she is capable of doing whatever her clients need, and is a vital part of growing their businesses.
A True Fairytale
Whether it's Pugsy traveling from city-to-city or her team leader supporting her with every step, Stacy believes she's found a fairytale that's true.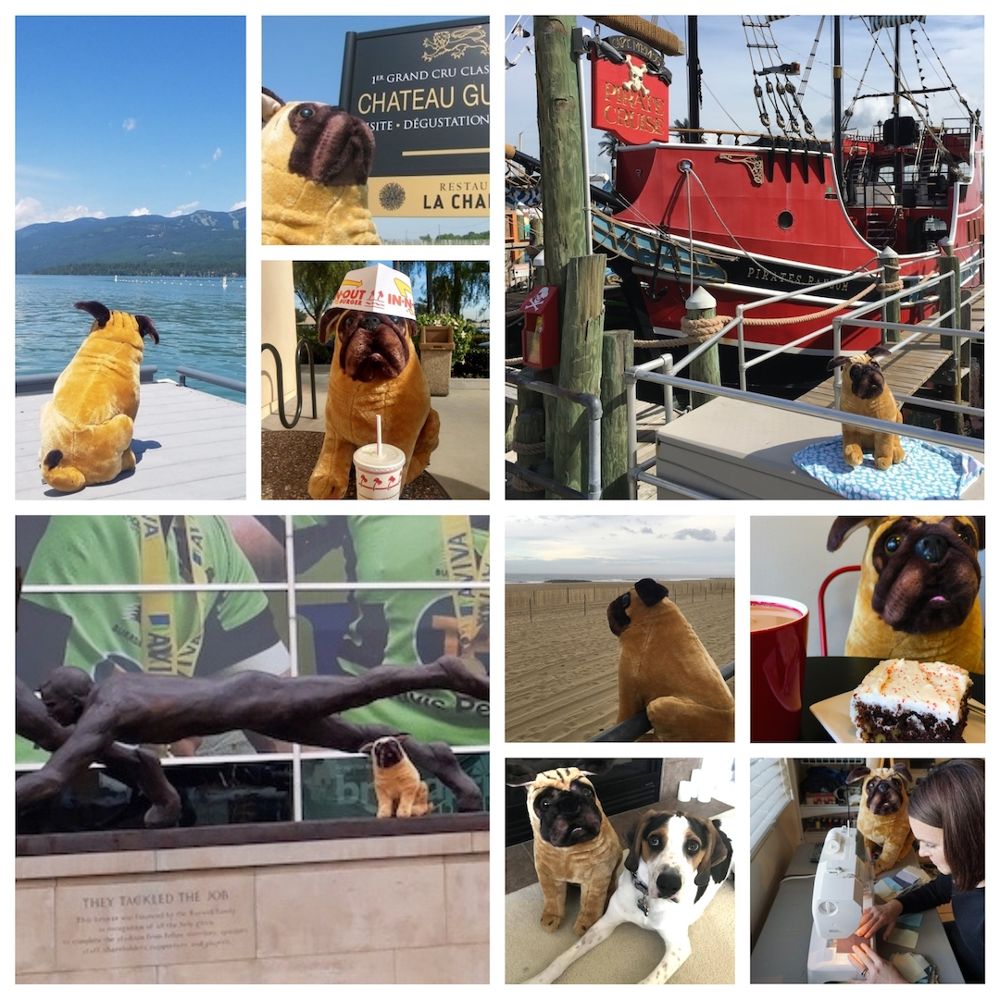 Working Boldly is about learning, work-life integration, and pioneering the new way to work.
If this sounds interesting to you, why not consider joining the team and see if the fairytale is true for yourself?
Visit our open positions and join the team with Stacy and a world-class team. It's time for a career on your own terms.
Published on August 29th, 2019