Boldly Certified As A Great Place To Work For 4th Consecutive Year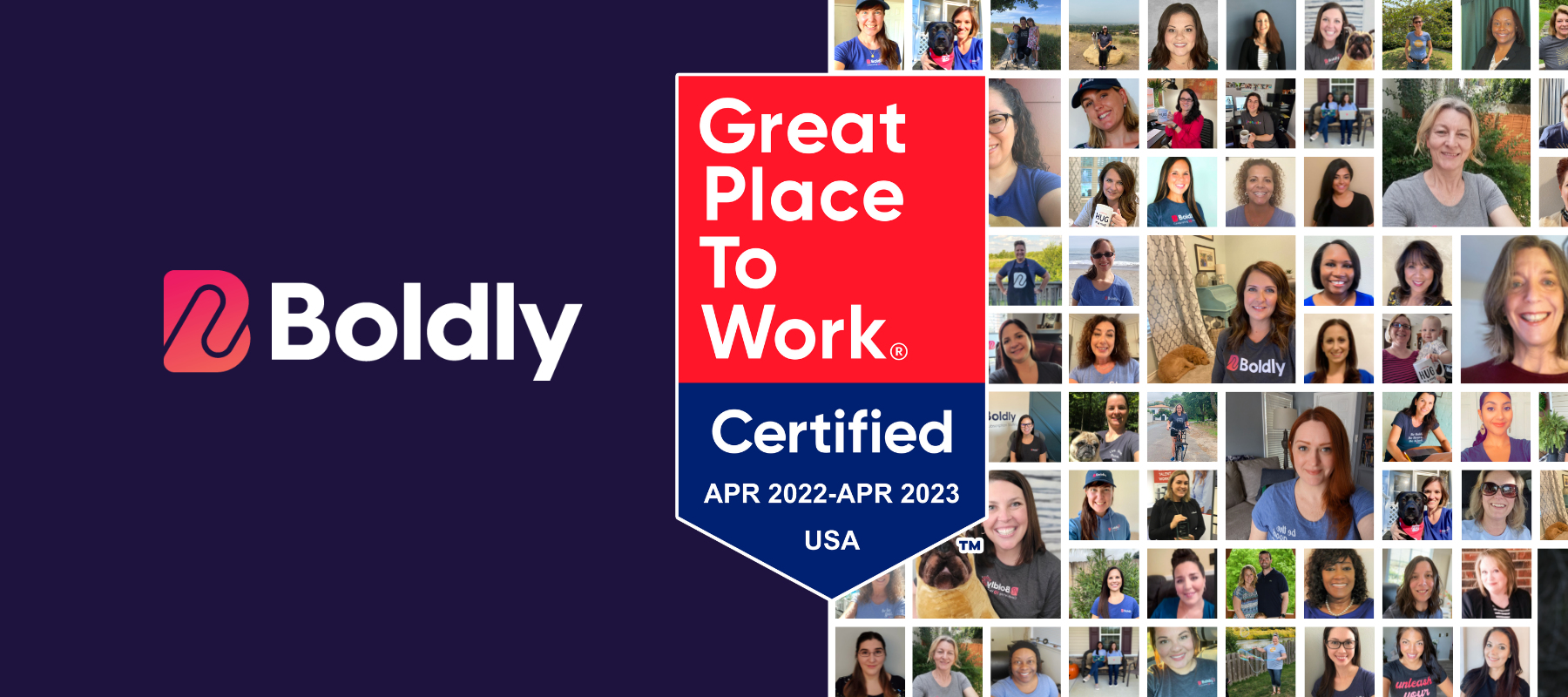 We're thrilled to share that Boldly has been certified as a Great Place to Work for the fourth year in a row. And, of course, we owe a special thank you to our team — you are what makes Boldly, Boldly!

Since day one, the focus at Boldly has been on creating a culture of kindness and camaraderie, and we love having the numbers and data to back this up. Some of the results we really want to shout out are:
100% felt like they could ask any reasonable question and get a straight answer.

100% said Boldly's management is competent at running the business.

100% believed that Boldly hires people who fit in well here.

100% said that Boldly's actions match its words.

100% felt that Boldly is honest and ethical in its business practices.
It just goes to show that when the right people come together at the right time, driven by pure passion, great things happen! 
Plus, this year, Boldly has been ranked as:

What Values Make Boldly a Great Place To Work®?
At Boldly, Care is our North Star.
Care directs every decision we've made in our decade-long history. While it's easy enough to say that you're employee-focused and move on to the next KPI, we're not most companies.
We are professional, we are premium, we are celebrated by our team and our clients alike, and we are Boldly changing the way people work.
Friendly and Caring

– We like working with friendly and caring people and so do our clients. That's why Boldly is all about providing friendly, personalized service.

Everyone Wins –

Long-lasting partnerships must be beneficial and rewarding for everyone involved. Our clients and team both get to choose whether or not they want to work together, and our team is highly invested in helping our clients succeed.

Attention To Detail

– Just because we're friendly doesn't mean we don't mean business! Solid execution comes from sweating the details, and one of our key team requirements is to care for all the little things that translate into extraordinary results.

Taking Responsibility

– The buck stops with us—no matter what the situation. Our team takes responsibility for their actions and for speaking up when something isn't working so that it can be improved.

A Positive Outlook

– We believe in the power of positivity grounded in reality—that is, looking at each situation as an opportunity to learn, thrive or improve. We want to have a positive impact with our work and in all of our interactions and collaborations.

Screening for Talent

– Our staff is selected for their innate sense of service and care, as well as their years of corporate and professional experience. We look for people who are motivated to contribute to and partner with our clients for the long term.



What Is The Great Place To Work Certification?
Great Place to Work is the global authority on workplace culture. Since 1992, it has surveyed more than 100 million employees globally and has used those deep insights to define what element makes a great workplace: trust. Great Place to Work helps organizations quantify their culture and produce better business results by creating a high-trust work experience for all employees.
We're hiring! If you'd like to join a team of passionate, results-driven professionals, visit our jobs page to
see our open positions
.
Updated on October 10th, 2022