If you're looking to hire a virtual assistant, congratulations! Bringing on a VA is a great way to free up your time and hand off administrative or repetitive tasks that can draw your focus away from strategic work that will grow and improve your business. 
You may have also noticed there is no shortage of virtual assistant companies to choose from. However, if you're a US company or executive looking for dedicated, US-based (contract), virtual assistants, the list below outlines some of the most highly-rated companies to start your search.
Here are our picks for the best virtual assistant companies in 2020 (US-based): 
Belay

Prialto

Fancy Hands

Time Etc. 

Zirtual
Let's dive into some of the similarities and differences between these companies below. Note: all of the companies below offer 100% remote support from their virtual assistants, who are 1099 contractors. 
Belay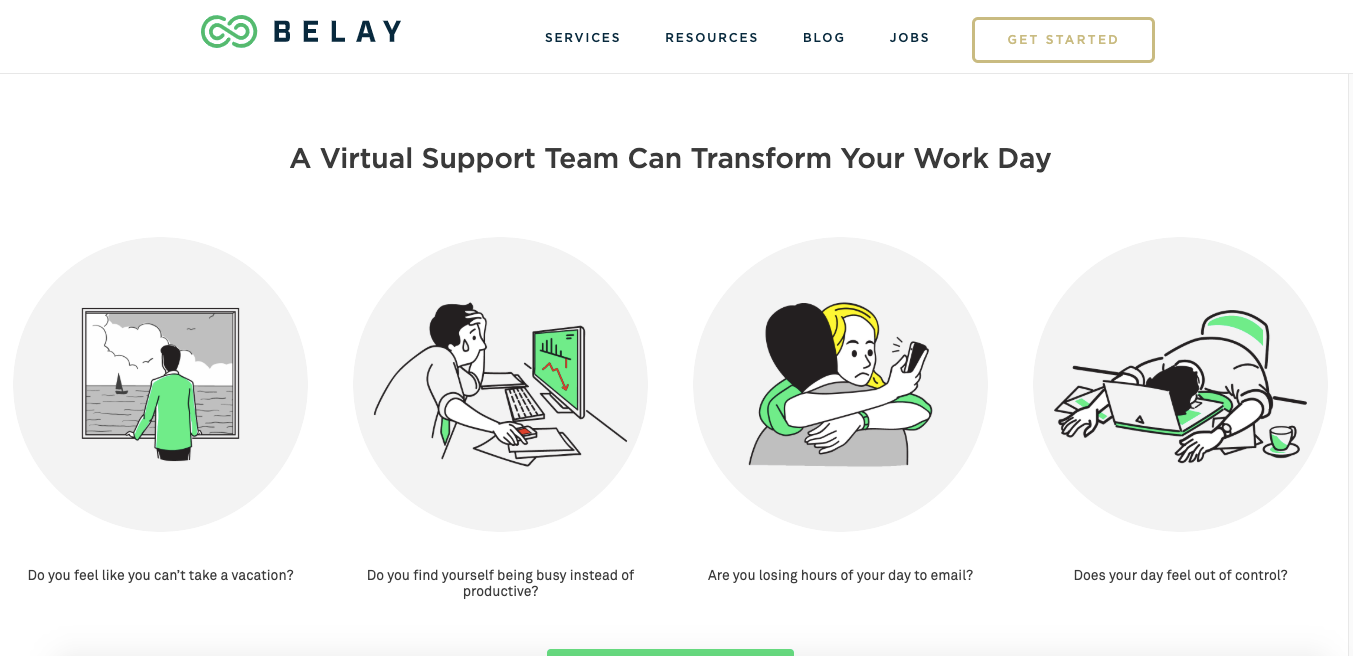 Belay is a virtual assistant company located in Atlanta, GA. Their VA's typically have 5+ years of experience and can help with a variety of tasks, such as travel arrangements, marketing support, calendar management, project research, social media, data presentations, recurring tasks, first impressions and voicemail, and more. 
Belay personally matches clients with a VA that will fit their needs. They offer a 'dedicated' VA service, which means you will work with the same VA consistently. You will also be offered a relationship manager, who will help you with any outside needs that may arise. Belay is big on company values, well-rated and well-established. 
Belay currently has more than 800 clients and has been steadily growing over the past few years. Pricing varies so it's best to contact their team for a direct quote to fit your needs. You can learn more about Belay here. 
Prialto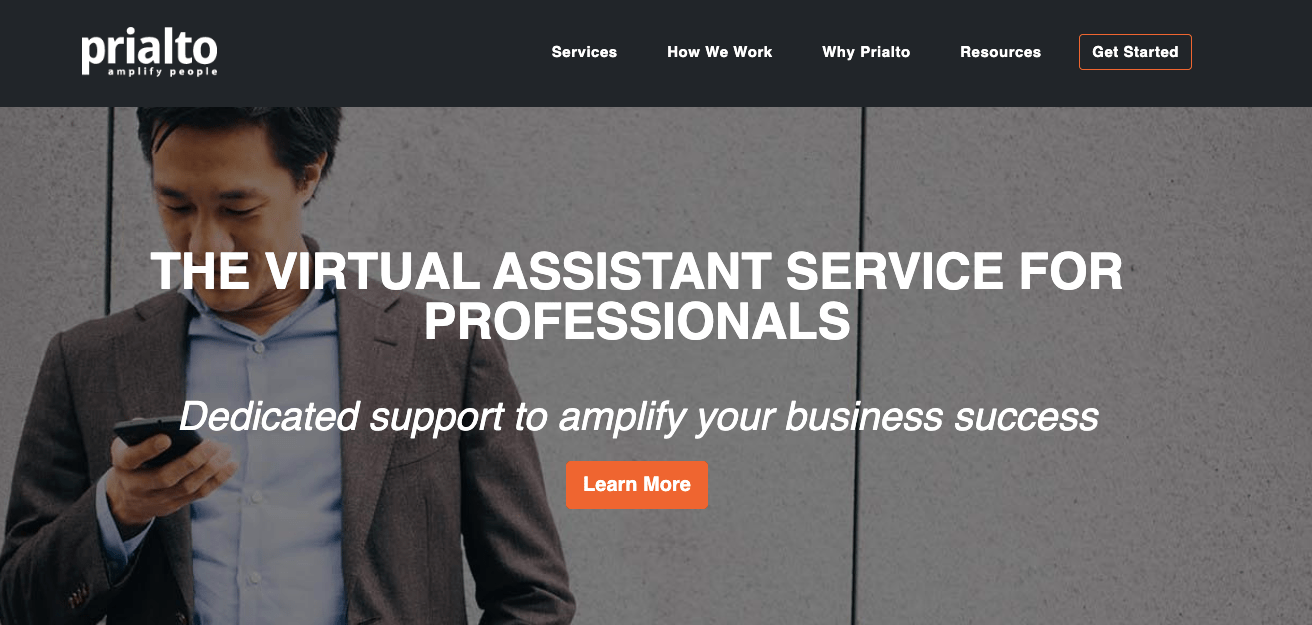 Prialto is managed from a headquarters in Portland, OR, with English-speaking staff in Asia and Central America. Regardless of the location of your VA team, they do offer support during the client's business hours. 
Prialto provides executives with a team (a project manager, primary assistant, and back-up assistant) of virtual assistants who can take on a variety of administrative tasks including lead generation, CRM data entry and maintenance, travel arrangements, scheduling, expense reporting, document preparation, email management, incoming and outgoing calls, etc. 
With Prialto, you pay a flat rate for your dedicated virtual assistant and accompanying team. Learn more about their specific process here. 
Fancy Hands

Fancy Hands is a popular option for those looking for help from US virtual assistants with simple tasks like scheduling, personal shopping, research, making calls, customer service, etc. 
Fancy Hands is a bit different from the solutions above in that they work through a platform rather than through one-on-one communication. The platform allows clients to send requests that their VAs then take on to complete, and their pricing works by request, instead of per hours. If you're looking for a fast, simple way to start with virtual assistance, Fancy Hands may be a good fit. 
If you're interested in checking out what Fancy Hands can do, you can learn more at their website. 
Time Etc. 
Time Etc. is actually UK and US-based. Their website states they hire only college-educated professional virtual assistants with 5+ years of commerical experience. 
Time Etc. offers both a dedicated VA option (you work with the same person consistently) or you have the option to match your work with a VA on their team you believe might be best suited. As with fancy hands, Time Etc. works through a virtual platform that allows clients to assign tasks from within a dash. 
Time etc. offers a few different plans and has a money-back guarantee as well as a free trial, you can check them out here. 
Zirtual

Zirtual (owned by startups.co) offers US-based, dedicated and college-educated virtual assistants to handle tasks like scheduling, event planning, travel booking, invoicing, data entry and research. When you get in touch with their team, they will match you with a virtual assistant they feel will best suit your needs, and you'll work with that VA one-on-one.
Zirtual offers plans ranging from 12-50 hours a month. Their VA's work normal business hours in the time zone of your choice (note: they do not work weekends or holidays). 
The Pros and Cons of Using a 1099 Contractor
It's important to note that the virtual assistant companies mentioned above use 1099 contractors. Small businesses often appreciate the flexibility and cost savings afforded by bringing on 1099's. However, be sure to familiarize yourself completely with the laws and regulations of using contractors in your state — as it may vary state to state. 
The IRS warns that employers may actually end up paying much more in the long-run if they don't pay very close attention to an abide by the law of employee classification. Misclassification of employees, even if it's unintentional, can be a very big cost liability. If found guilty of misclassification, employers are responsible for all past payroll taxes, unemployment taxes, plus interest and penalties. 
For example, 1099 contractors are only supposed to be used for short-term and one-off projects, and not suitable for long-term work situations. And in California, even the question of short-term projects are being brought into question. 
If you need or want long-term support that is both flexible and compliant, subscription staffing may be a better fit for you. The liabilities of using contactors are removed (as workers are employed as W2 employees by their subscription staffing company) while still leaving the benefits of having flexible remote workers in-tact. With subscription staffing, businesses can be matched with experienced and flexible talent fractionally, and scale up or down on their subscriptions as needed. 
On the other hand, subscription staffing is also positive for the employee, as they have the same stability as any other W2 employee, while also enjoying the flexibility and variety of work that many contractors experience. 
Looking for the next level up from virtual assistants? Rockstars as a service—remote executive assistants with 10-15 years of experience on a simple monthly subscription. 
As mentioned above, if you're looking for remote support from professionals who can handle more than basic administrative tasks, or remote team members who can integrate into your business for the long-term compliantly you may want to consider Boldly's subscription staffing. 
Inspired by the model of virtual assistance, subscription staffing is a new frontier in hiring that offers companies and executives (the only) compliant solution to bringing on experienced remote professionals for the long-term in areas such as executive assistance, marketing, finance, project management, and paralegal work. 
With subscription staffing, remote, experienced and Fortune 500-trained professionals are employed by Boldly (as W2 employees) and then matched with clients who can use their expertise on a fractional basis. The remote staff integrates fully into their clients' team and works with them one-on-one on a long-term basis. Clients subscribe for the number of hours they need their team member each month.
Subscription staffing began taking shape in 2019 and is now used by companies like Apple, Facebook, Zendesk, and Google to fill fractional roles with highly-experienced remote staff. If you're interested in learning more about subscription staffing, you can do so here.
Topic: Remote Executive Assistant