7 Tips To Letting Go & Delegating Effectively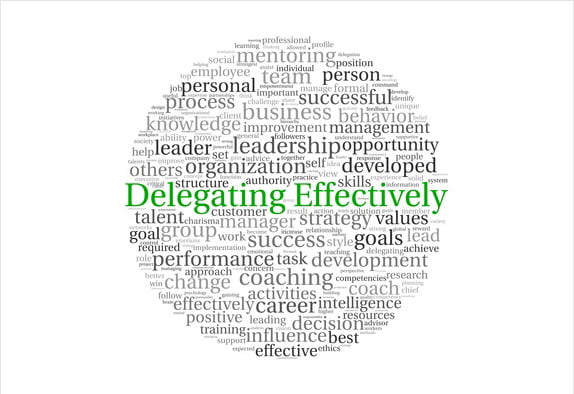 In business, delegation is a critical skill. It takes practice and commitment. And it can make the difference between accelerating growth, and a small business running with its brakes on.
When you hire a virtual assistant, delegation becomes an integral and essential part of your operations. Taking that step – giving up responsibility or "ownership" of certain tasks – is a leap of faith: faith in your VA and faith that your company can run smoothly without micro-management. Here are a few tips to ensure that your leap finds you landing on solid ground:
Tip 1: Choose a Competent, Business-Grade Virtual Assistant
This almost goes without saying, but we'll say it anyway: the very first step to successful delegation is finding competent help you can trust. Hiring a business-grade VA perfectly matched to your business affords you complete confidence that your virtual assistant is capable of completing the tasks you delegate – proficiently and on deadline, so you can breathe a little easier. (Check out our guide on how to choose the perfect virtual assistant.)
Tip 2: Define Tasks For Your VA
Communication is the key to working effectively with your virtual assistant, and proper delegation begins with communicating the details. Get started by defining exactly what tasks you plan to delegate, from simple email management to complicated website design. With every task, be clear.
Define the parameters.
Outline your expectations and goals.
List all relevant details, so your assistant is properly prepared to fill your shoes.
Tip 3: Establish Work Standards & Guidelines
And speaking of those details, simply wanting to let go is not enough to delegate a task: you must put your intentions into practice. And that means documenting your company standards, style guide, and other guidelines – everything your VA requires to adequately do her job – your old job. Remember, even the most skilled and experienced virtual assistant is only as good as your guidelines.
The documentation process does require time, but your VA can help. In just one or two sessions, you can lay out all of your expectations regarding style, tone and general company conduct, so your virtual assistant, and any future employees, can check back whenever they need to. This one-time briefing will save you hundreds of hours in the future – that's a serious return on [time] investment! Plus, you'll rest easy knowing that everything is completed to your standards.
Tip 4: Set Deadlines
Whenever you delegate a time-sensitive task, be very clear about your deadlines.
If you expect your assistant to report in everyday, every week, or every set period of time, make it known. If a project has staggered deadlines, write them down.
Tip 5: Eliminate Micro-Management
The worst thing you can do to yourself (and your VA) is "half-delegate." In other words, don't delegate a task and then proceed to micro-manage it every step of the way.
Certainly, invest time in training, and even shadow your VA the first time she performs a task, to make sure things are clear–but if you've followed tips 1-3, then you know that your VA is qualified and competent. She knows exactly what you want her to do, and how you want her to do it. You've already proposed a timetable, set up guidelines for when and how your VA will update you, and established all other task parameters. Now let your system and your virtual assistant do their thing.
Tip 6: Have Faith In Collaboration
A responsible, experienced business-grade virtual assistant knows all the tricks to make a virtual workplace run smoothly. She can recommend email management programs, screenshot captures, team project management software, and other collaborative tools. Choose the ones that work best for you and your business.
Tip 7: Relax
If you've safely made it through these tips, it's time for the hardest part: relax and let go. Have faith in the process, and in your assistant.
When it comes to your company – your blood, sweat and tears – we know it can be hard to let someone else take the reins. But if you've chosen to work with a company like Boldly, then you have delegated to the most qualified, competent help out there; you're in good hands.
So relax. Enjoy the new freedom that delegating gives you. And get started doing all those things that only you can do, and that will move your business forward in leaps and bounds.
May 2022 Update: Times have changed, and Virtual Assistants with this level of expertise are now typically called Remote Executive Assistants.
Topic: Remote Executive Assistant
Updated on May 11th, 2022