Work At Home? 4 Ways To Keep Your Office Productive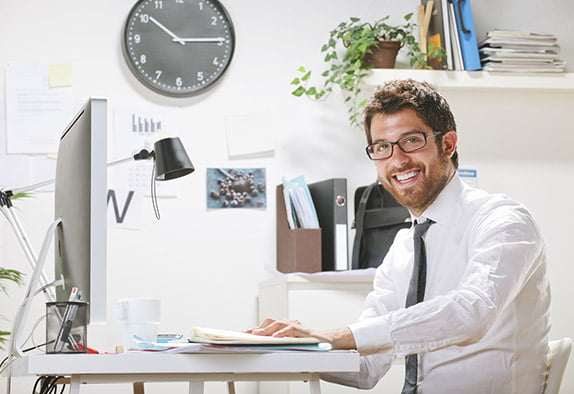 When you work from home, you have the space to create your own home office, design it how you would like and ensure it is perfect for your day to day work. Research from the Harvard Business Review recently suggested that people who work from home actually get more done each day, mostly down to the quieter environment away from the office noise which can impede on productivity. However certain aspects of a home office can be distracting and unless taken care of, can have an effect on your overall efficiency. Take a look at these four examples of how to keep your home office productive.
Don't Mix Personal Life With Work
When you work from home, it is very easy for some of your 'home' distractions to creep into the home office…but do try to keep the two separate. Take a look at your desk and room now and again and see how much of it has been taken up by things that aren't related to your home office. Have you got a TV in there, or a magazine you were reading? Perhaps a pile of washing? Anything like these are taking away from the office space and are a reminder that outside of the closed door, is your home. You need to maintain a tight boundary on where work begins and where it ends; it needs to be a completely different space than the rest of the house, otherwise you'll get distracted which could impact on your work and productivity.
Expand Your Storage
You can generate a lot of documents and paperwork working from home, and you may end up with piles of paper everywhere without even realizing. If it gets to this, consider expanding your storage or organizational system so that you have a fully systematic space. Even simple files and folders can really help. If you have a large space, consider investing in a filing cabinet or a bookcase to really make a difference to your office and overall productivity. Having a tidy and structured desk can certainly make you feel more calm and productive when you're working.
Keep Your Technology Updated
When you work with a computer all day, it's likely that you have quite a modern one that is fast and reliable. However, just like the mobile phone that you carry in your pocket, these computers need updating now and again with the latest big fixes and fancy new add-ons. Many people will have ticked the box to always be warned when there is a new update available, which is a much better option than it surprising you with a delightful update mid-afternoon when you're knee deep in a project. This gives you the opportunity to let it do its thing when you have the time available. However, it's really easy to keep putting it off. The problem with this is that the computer knows the update is sitting there and it could have an impact on the computers performance and speed until it is given the green light.
As a key example, my laptop recently got given the go-ahead to update to Windows 8.1; the notification popped up mid-day while I was buried in a long to-do list. Rather than destroy my productivity for the day, I pushed the update back to a weekend where I could let my laptop update while I was elsewhere. Don't let updates become unimportant; they not only can hamper your productivity, but can really change your mood if putting it off leads to a system crash. It isn't worth it.
Get A Good Seat
If you're sat at your desk, take a moment to consider just how comfortable and suitable the seat you're sat at is; how does it feel? (If you're sat at the couch, perhaps rethink your strategy and move back to the desk chair). When you work in a home office, you're going to be sat at your computer a lot, which means the health of your back is really important. In the US, 8 out of 10 people suffer with back pain at some point in their lives, but there is a lot you can do to look after your back through the correct posture and the appropriate seat. Some may think that their chair is the last thing that could have an impact their productivity, but if you're not comfortable and a cheap chair is putting pressure on your back, you're going to be losing precious work time. It's worth going to your local department store and seeing what chairs they recommend for good posture; it makes so much difference.
Updated on June 19th, 2020