6 Steps To Master The Virtual Assistant Onboarding Process [Free Checklist]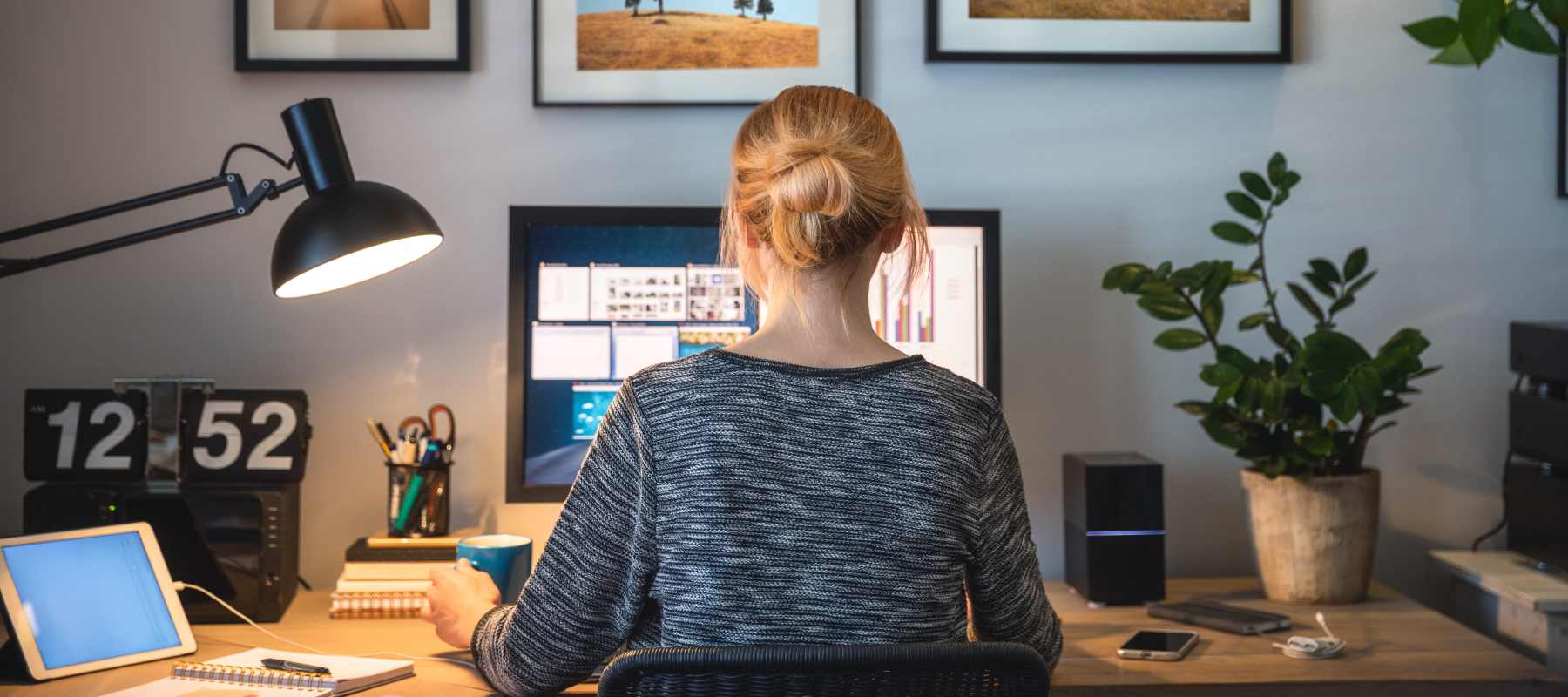 Onboarding a new employee is easy in theory, but how do you do it if the employee is hundreds of miles away?
Bringing a new remote virtual assistant into your team is no small task. Onboarding done right is the key to fast productivity, building trust, and long-term success.
One of the biggest advantages of outsourcing your admin (vs. hiring in-house) is that you can look for a company that offers managed, dedicated assistants. This means the company takes on the task of managing, training, and overseeing the assistant (instead of you). Here at Boldly, this includes a thorough onboarding process for both our team and clients.
And after onboarding hundreds of virtual assistants over the past decade, we've put together the ideal assistant onboarding training process in just 6 steps.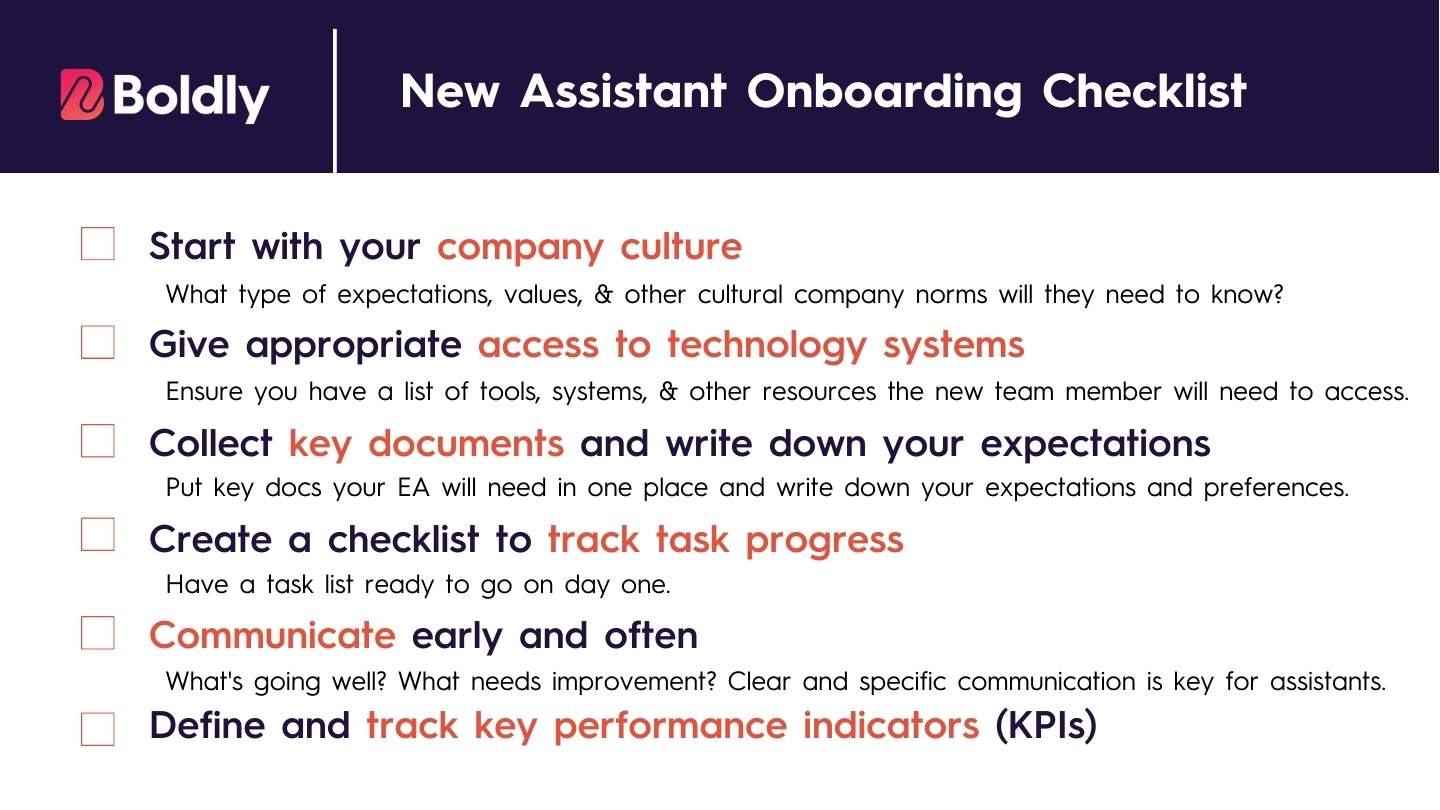 6 Steps To Onboarding That Will Make You, Your Assistant, And Your Clients Happy
How well you bring your virtual assistant into your team affects your client experience, not to mention your assistant's experience as well as your own. A good assistant onboarding can become a template your whole team can use as a process for onboarding clients or other employees.
We've prioritized this idea as our value of "everybody wins." When Boldly team members are engaged and invested in the work they're doing, they care about doing their best for clients. When clients work with invested, caring team members, they continue to come back and refer their colleagues. It's a win-win, but it all starts with onboarding.
The key to onboarding is consistency, with each step building to the next in a structured onboarding program.
You can't cover every possible list of tasks or work scenarios that might come up. But that's not the point. The goal is to build a foundation with simple steps, where your VA has the information necessary to think on their feet and get to work right away.
Here's the process at a glance:
Start with your company culture
Give appropriate access to technology systems
Collect key documents and write down your expectations
Create a checklist to track task progress
Communicate early and often
Define and track key performance indicators
1. A Good Onboarding Starts With Good Culture
A company's culture is only as good as its people, which is why it's important to explain your expectations, values, and other cultural norms to new team members.
This can start with company handbooks or manuals, but should also include any "unwritten" office or company rules. This is especially important if you're onboarding a remote assistant, who may not see the day-to-day office interactions.
For example, what is the attitude towards working late? What is considered an emergency that might require your virtual assistant to work outside normal hours? What is the expectation for using Slack or other chat tools — should these be strictly professional or can messages be a bit more informal/fun?
2. Give Appropriate Access To Technology Services
Anytime there's a remote team member, technology is a big deal. If the tech isn't seamless, it's going to be much harder than it needs to be.
When you hire a VA, prep access to the following in advance:
A company email address with a signature that indicates their position in the company
A company phone number (or VOIP option) that forwards to their location
Calendar, scheduling, and travel software
Internal messaging and video conferencing systems
Cloud document and file storage
Task and project management software
Your CRM for managing any contact or prospective client
Your list might be longer depending on what you intend to have your VA do. Additional software, such as invoicing, social media management, marketing, management of affiliate links, and other software platforms may be required for the specific list of tasks you expect of your VA.
The goal is complete integration with your team. From culture down to how they appear to your clients when they communicate with them. A client (or potential client) doesn't have to feel any lag or confusion if your new VA has the tech, systems, and even email signatures in place.
If your VA needs higher-level access on some platforms, be sure to give it to them.
There's trust required to do this (which we'll cover in a bit), but restricting access reduces the value of your VA. It can be awkward for a new VA to demand access to files or systems they need to do their job. Plus, if you're crunched for time, making them wait before they can continue their work is inefficient.
3. Collect Key Documents And Write Down Expectations As A Virtual Reference Library
What do we mean by reference library?
Basic information about your company, such as its mission or vision statements
Any step-by-step guides you have on how to perform common tasks or operations
Employee handbooks
Team and organization information
Security and privacy protocols
Templates for documents, emails, meetings, etc.
Audio recordings of sample client or sales calls
Your VA will also need to have you clearly communicate your personal preferences, which other team members may not need to know. These include:
Meetings: When do you prefer to have regular meetings? How long should they be? Who should be in them? How much time do you want between meetings?
Availability: What hours are you definitely not available? What days are personal days? How do you want to structure your work time? Blocks? Pomodoro?
Voice: How formal (or informal) do you want the emails and communication that comes from your office to sound? How do you want the phone answered?
Preferences: What are your travel preferences? Meal preferences or dietary restrictions?
Personal: What kinds of personal tasks will they be doing for you? Do they need to know about family birthdays? Your favorite florist? What is your expectation of privacy?
You may cover these in a meeting. But it's best to write it down for reference until your VA gets to know you better. Without writing it down, it's easy to overlook things that are second nature to your team.
For example, an in-person team can see when you're in your office. They see when your door is open or you're in an open workspace to ask questions or give quick updates.
A virtual assistant doesn't have that same ability. This means you must define your in-office availability for your VA.
Quick documentation on the front end saves confusion or frustration on the back end.
4. Create A Thorough Checklist To Track Task Progress
As mentioned, effective onboarding programs are consistent and structured.
Have a task list ready to go on day one for your VA. Over their first few days, this should primarily be onboarding items like:
Talk to HR and sign employee forms
Confirm or create logins for key systems and technologies
Complete or sign up for training on software
Set up email with IT
Read through required documentation and reference library
Have your VA check in with you at the end of each day with what they completed, any questions they had, or issues that arose through a quick confirmation email.
This allows you to track their onboarding progress as well as help your VA see where they might need some help. Remember, small steps come before big leaps.
Straightforward is much better than looping back.
As they begin to work through all of their onboarding and new employee documentation, you can start to add VA-related tasks to their plate.
5. Communicate Early And Often
In the early days of a working relationship, it's good to communicate more than you're used to.
If something isn't done correctly, gentle direction is necessary. On the flip side, if you're impressed by something your virtual assistant does, let them know!
With great onboarding, communication levels will reduce some as your VA learns your preferences and expectations without you having to spell them out. But that will only happen if you make them clear at the start, and establish a pattern of effective communication with your remote team.
The first time you ask your VA to book a flight, for example, be sure to reiterate your preferences and be clear that this is what you prefer. This is your chance to steer the ship and help your VA figure out expectations and personalities.
Here's where a high-level remote executive assistant begins to outshine most standard VAs. Remote EAs typically have more experience (10-15 years on average, here at Boldly) and proactively start to lead you. They're experts at communicating what they need, asking specific questions (like where you prefer to sit on an airplane), and can easily navigate through the remote/in-person landscape. In fact, our team of executive assistants have single-handedly created onboarding processes and documentation for many clients!
Read more about a virtual assistant vs. a remote executive assistant.
6. Define And Track Key Performance Indicators (KPIs)
While you might document expectations, and you might mention it in meetings and interviews, it's a good idea to also have a way to track and measure performance.
For an employee, there are few things worse than not knowing what's expected. How do you know if you're doing a good job if no one has defined what that looks like?
Let your VA know what your expectations are when it comes to work hours, time off, performance, efficiency, and other standards. There are several ways to measure the performance of your remote workers. Use the data generated by your software, as well as periodic reviews or meetings, to track how well those KPIs are being met.
This isn't just for your VA, mind you.
The best working relationship is bi-directional, and you can learn a lot by simply asking your VA to be honest about how well you're communicating and if there's anything you're doing that's making their job difficult to do effectively.
That First Meeting Matters To Your Team
Here's a little secret, though, despite those great steps we just listed.
The first step of onboarding a virtual assistant actually starts before they're officially onboard. Seems impossible, but consider: the perfect onboarding process with the wrong person will still fail.
Before choosing your remote virtual assistant, it's important to make sure they're a good fit for:
How you work
Company culture
Personality
Skill and experience required
How you handle your recruiting and hiring affects everything that happens downstream.
If you're sure you have the right person, it's important to introduce them to everyone on the team so they know who they are working with. Geography doesn't negate someone being a person with a name; remote team members need to feel connected to the people they are working with.
And that's the key: they're working with you, not just for you.
Trust Doesn't Come Through Email Or A Screen Alone
An email exchange is helpful. A Zoom is great. But building trust with your VA has to go further.
Trust can be daunting, let alone making sure you're onboarding your VA in a way for seamless integration.
We get it.
That's why we created a system to take care of it for you. By being highly selective and vetting our employees to the strictest professional standards, as well as demanding extensive experience and professionalism, we make onboarding easy. We did the work when we hired our team; you benefit.
In fact, within a week, you can have a fully functioning well-matched virtual assistant you can trust reducing your workload. We'd love to speak to you about it.
Published on April 6th, 2023