Does Your Social Media Imagery Need A Makeover?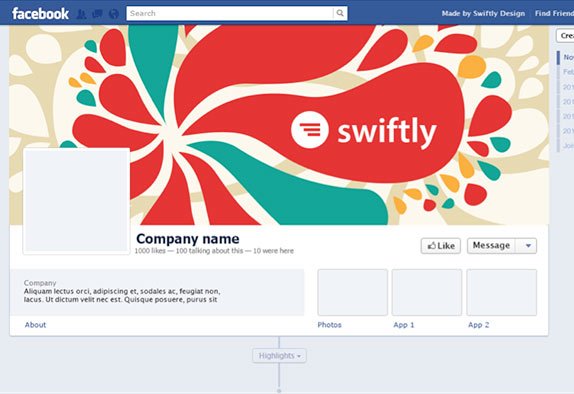 Your social media presence is an incredibly important aspect to your business; alongside your website, it is an online representation of your company and a fantastic place to talk to your customers, meet new ones and advertise what you have to offer as a company. However, take a look at your imagery; how's it looking? Besides your logo (which undoubtedly will be an outstanding representation of what you stand for), there are other things to think of – cover images, background pictures and so on…all available spaces to make you stand out as a business.
More often than not though, these permitted spaces are going to waste; neglected with a blank space, or an ill-fitting image from the depths of an old stock folder. It's time to take action and breathe new life into your social space, and you don't need to hire an expensive designer either. Take a look at four places we love that are perfect avenues for adding a bit of something special to your social media.
Creative Market
Creative Market is a genius creation, allowing independent creative contractors from around the world a space to showcase and sell their work. The site has hundreds of templates, photos and graphics to purchase, providing you with a lot of fantastic material to add to your social media design. They also offer 'Free Goods of the Week', giving away things such as free fonts and images to use in any future projects.
If you're looking for a template or a personalized Social Media cover, there a dozens of options available to enable you to find the perfect solution for your business. If you're looking for inspiration, their blog offers a wealth of ideas and suggestions. Prices vary for all products.
Etsy
Perhaps the last place you would have thought of to seek out some professional looking social media imagery, as to many people's minds Etsy is more a place to get handmade goods that arrive in beautiful looking packaging to your door; not digital goods, surely? However, it is becoming a very popular place for many to showcase their graphic design skills, and a simple search for what you're looking for conjures up many design ideas to purchase.
Many owners offer a bespoke service, enabling you to advise on what you're looking for and have them create it. There are also templates to download that you can edit yourself and personalize to your own design. Etsy is ideal if you're looking for something professional but don't want to spend a hefty amount of time on it, or money either. Prices vary depending on your specification and the individual seller.
Canva
A personal favorite of mine, Canva is proving to be a wonder in the business world to enable business owners to create personalized and very professional imagery for their business. They have templates available for many different areas – Facebook Covers, Twitter Covers, Posters, Google+, Business Cards and so on – and you are then presented with layout ideas which you can then personalize, or you can start from a blank canvas.
There are limitless options with what you can do with your design – colours and fonts can be added and changed, text, lines or small graphics added. You can import your own imagery or purchase any from their stock files at only $1 a piece (they do offer some free stock files). It is completely free to use unless you purchase images, and the ease of use and design options available with Canva make this a real winner.
Swiftly
Swiftly is perfect for small design tasks that you want to get done quickly, so it could be ideal if you want someone else to do the work for you, but you don't want it to take too long. You request what you're looking for, and one of their talented designers makes up a design for you 'swiftly'.
They also offer a free template library, offering more than 2000 free templates such as social media designs, business cards and so on. You can download them for free, or you can choose one and then get it customized for only $19 in the space of an hour. Not only do they offer customized projects, you can also get editing done when you need it. With great features and a fast turnaround, Swiftly is ideal for the little graphic jobs you just don't have the time or skills for.
Updated on May 18th, 2021