10 ways the business world has gone virtual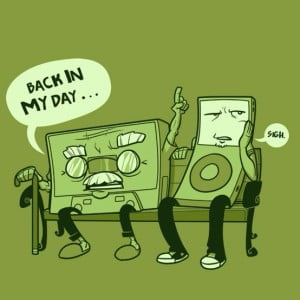 As the world of business evolves and technology helps us to make things simpler, better and faster within the work place, it's interesting to stop and look at how things have evolved. Over the last 20 years we've seen incredible innovations – the mobile phone has become common-place, most businesses operate using the internet, and emails have become an indispensable method of communication.
Here are ten ways the business world has gone virtual, with a look at then and now.
How many of these virtual facilities do you make use of, and how many could you be implementing in your work place to take advantage of a more efficient business model?
1. Emails and communications
Then: business agreements had to be done in person, information was passed by letters in the post, and if you needed something quickly, you had to pick up your desk phone.
Now: You can quickly and easily access information at the click of a button using your email client. Communication is instant, and is also available on mobile devices.
2. Signing of contracts or important documents
Then: if you weren't able to meet in person, any important documents had to be sent by post and you would need to wait for them to be accepted, signed and returned.
Now: documents and contracts are instantly signed online using systems like VeriSign or other secure online services.
3. Meetings with clients, colleagues or staff
Then: meetings were scheduled months in advance and all participants would need to travel to ensure that they were in the same room for the meeting.
Now: thanks to modern technology, meetings can happen on-demand, and participants can call in to a virtual meeting room or conference call from anywhere in the world.
4. Finding the right staff for the job
Then: your staff had to be located in the same city as your business which limited your options to who was available – not who was best. You had to undergo lengthy interview processes and consider extensive contracts and employee benefits.
Now: You can work with virtual staff from anywhere in the world which gives you access to a global talent pool. Working with a virtual assistant company also gives you the flexibility and ease of hiring staff when you need them for as long as you need them without all the hassles of full-time contracts.
5. Banking or making payments
Then: If you wanted to make a payment or do any banking, it often meant queuing up at the teller for hours on end in your local branch.
Now: You can quickly and securely access internet banking from any location on any internet-enabled device.
6. Office records and filing
Then: companies would often need entire rooms dedicated to housing their filing and paper records. They would also typically require a full-time employee to deal with records.
Now: Many businesses operate a paperless filing system opting to use cloud storage or secure servers instead of traditional filing methods. It's more affordable, it requires less space – and it's a greener, more environmentally-friendly option too.
7. Business overheads
Then: Starting a business was often limited to those who had the capital to support business overheads, and many businesses failed within their first six months due to lack of funds.
Now: Business overheads have been greatly reduced as they can work entirely virtually. There is no cost for offices, staff work virtually with their own equipment and software, and even customer service is done by professional teams that work remotely.
8. Customer interaction
Then: Customer interaction was limited to face-to-face visits, telephone calls and letters. Now: Customer interaction has gone social, and companies can now directly interact with their customers instantly and easily using social networks and online technology including emails and online chat.
9. Shop fronts
Then: If you wanted to sell something, you had to have a shop. That meant renting a
High street store if you wanted to attract customers, and investing a lot of time and money into window dressing and visual marketing.
Now: Anyone can have an online shop if they have the idea, the money to pay for it, and the business acumen to keep it running. Online stores are accessible, quick to set up, and can be run from your home.
10. International markets
Then: Taking your product into international markets would have required airplane tickets, hotel bookings, and a lot of physical networking. It was a job best left to the "big players" in the industry.
Now: Taking your product into international markets is as easy as setting up a website and targeting your online marketing to attract international visitors. It is easy, affordable and instant.
Updated on October 18th, 2022