Your Virtual Assistant And Dropbox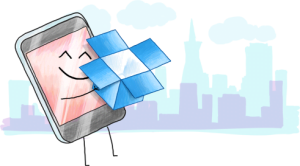 It's essential to have the right tools when you're working with a virtual assistant. If you've worked with a lot of virtual staff, you'll know all too well that your email inbox can get quickly clogged up with large attachments and it's difficult to keep track of submitted work.
That's where Dropbox comes in: it's a free bit of software that lets you set up and share a folder on your computer. Your virtual staff can easily access any assigned folders and add their completed work and files for you to access at a convenient time.
Dropbox offers free sign up and a free download. You get free additional storage space for providing particulars about how you use the software, your thoughts, and your company's details. The more information you fill out, the more space you get which can total up to 70GB of storage. That's plenty for a small business, and just enough for sharing files which you can back-up on hard drives or other devices.
If you need more space for back-ups and storage, you can upgrade your account to a paid version – starting at $9.99 a month.
How To Organize Dropbox Files
It's important to keep your Dropbox files arranged and ordered methodically. This will allow you to instantly access any submitted work and files within a few clicks.
You should create a new Dropbox file with your project name – "blog," "customer service," or "web design." Then, you can create different folders within that parent folder to represent the different file types you might require.
For example, a "customer service" folder would contain, amongst others, a "customer emails" folder which can then be further sorted out into "customer complaints," "customer recommendations," and "customer queries."
A "blog" folder might include sub-folders for "blog posts," "images," and "resource materials."
Your virtual assistant can then upload any relevant files and completed work to the correct folder. It is not necessary to over-complicate your dropbox file with multiple folders: only use as many as you need to access the information quickly and efficiently for future data recall.
Dropbox And Security
Dropbox allows you to share individual folders with anyone you want, and you can control whether they invite other users, or whether they can only view the contents of the Dropbox file via a link (and not modify anything). Only people who are invited to share the file can modify the contents of a file – and you get an immediate notification on your computer if something is updated.
It is an excellent service to use to back up and secure data off-site so that your files are safe should anything happen to your in-office computers. It also allows you to control your virtual assistant's files which are stored in the Dropbox Folder instead of on their computer.
Finally, Dropbox is also accessible via a single account on your mobile devices which means you can easily access any of your files on your computer, laptop, mobile phone and iPad for easy access to your work files on-the-go.
Updated on December 19th, 2022