Your virtual assistant and Basecamp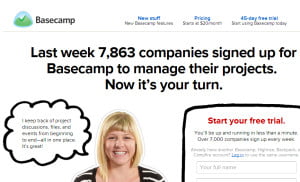 Basecamp is an easy-to-use project management software that lets you quickly and easily track projects in a virtual environment. It's particularly useful when you're managing multiple virtual staff members and you want to establish an open and easy communication channel that helps to promote more efficient and effective work processes.
It's particularly useful when you're working with a virtual assistant or a team of virtual assistants who are located in different geographical areas to you: you can create a project, assign users to that project, and create a communication area for tasks, documents, files, discussions and more. As the Basecamp owner, you can see quickly and at-a-glance who is working on what, and what information has been uploaded for you to review.
What makes Basecamp unique?
Each project is maintained separately in Basecamp so you can invite your virtual team to collaborate with you on as many projects as they're involved in. Each project has its own set of documents, files and discussions, and users can easily interact with a conversation at a time convenient to them. It's the best way for multiple people to stay in touch with each other without having to rely on emails, Skype meetings or other online interactions.
Keep everything together in one place for everyone to access and you'll enjoy a boost to your productivity. You'll also notice a difference in interaction and communication as email notifications from Basecamp remind people to get involved, and all project members are automatically emailed discussion topics and other pertinent information uploaded by users.
Use Basecamp collaborative project management software to:

–          Boost productivity and enable efficient processes
–          Encourage an interactive and collaborative environment for your virtual staff
–          Give everyone the change to give an opinion, even if they're working in a different time zone
–          Create a central place for document, file, discussion and project storage
–          Generate a quick turnaround with itemised to-do lists and assigned tasks
–          Get access to a synchronised calendar that tracks tasks and events
Basecamp pricing starts at $20 a month which gives you ten projects to manage. You can have unlimited users, and you can archive old projects to make room for new ones. You can use a "project" to keep track of a particular freelancer, or use it to keep track of a task. As soon as you add something new and assign it to someone, they're automatically notified so there's a whole world of productive possibilities to cut down on operations time and boost turnaround times for projects.
If you use Basecamp to track projects, you can save old projects to use as a bench mark for new tasks, or to share with any new virtual staff for a quick and easy handover. There's no need to explain everything again and try to find all of your documents. With Basecamp projects, it's all saved in once place for you.
Are you interested in Basecamp but want an alternative software? Why not try Zoho Projects which is slightly more complex and offers integration with other Zoho software packages, or Do.com which is a Salesforce.com software (previously the ever-popular Manymoon), fully integrated with Google Apps for a complete dashboard management system.
Updated on December 12th, 2022