Tools of the trade: five more you should know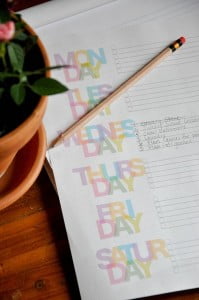 There are so many amazing online tools available to help you boost the efficiency of your website and promote visitor conversions, and we want to share them with you. You already know how to make working with your Virtual Assistant more productive (read our blog post here), so this second installation will look at five useful tools that will help boost productivity in your business or on your website, and will help you make the most of your virtual environment.
1. Toodledo
To-do lists just went virtual with Toodledo task-tracking. You can add tasks for your virtual assistant to complete, and keep track of all open issues with just a single glance. Prioritise your task lists for an efficient virtual environment, organise your tasks into folders and groups, and set alarms to remind you of important task events. It's free to use, simple to set up and can help you get things done quicker. Our favourite feature? The time scheduler which analyses how much time you have and helps you find tasks to complete.
You can register for Toodledo for free here:  http://www.toodledo.com/
2. Crazy Egg
No, it's not a breakfast option: it's a sophisticated, real-time analytics tracking tool that gives you a heatmap of your site's visitors. Basically, it shows you a virtual heat map over your website and analyses the data to determine what people are doing, where they're clicking, and what they're looking at. It lets you harness sophisticated eye-tracking data on your own website and turn that into a more productive design that gets more clicks.
Pricing starts at $9.00 a month, with a 14-day money back guarantee if you don't increase revenue or conversions using the Crazy Egg data. Sign up here http://www.crazyegg.com/
3. Blurb
Do you work in the creative industry or want to publish your own e-book for staff, customers and clients? Blurb is an online tool that lets you create a professional self-published photo book, trade paperback or e-book. You can import images and data from Facebook or Instagram, upload your own, or write it as you go. Produce sophisticated and professional publications quickly and cost-effectively. Consider publishing your staff handbook as an ebook to download for the iPad – it's free and can be sold on Blurb, or in the Apple iBookStore.
Get started with your books and ebooks here http://www.blurb.com/
4. Freshbooks
Freshbooks is a cloud-based accounting package that takes the hassle out of keeping track of invoices, business books and expense documents. Simply upload your invoice data into the prompted fields, and let Freshbooks do all the hard work for you. It provides you with simple-to-use tools that eliminate accounting fuss and lets you stay on top of business. It's also very useful for tracking hours worked on a project with the in-built time-tracking tool and lets you track all of your invoices with the click of a button.
You can sign up for free here  http://www.freshbooks.com/
5. Evernote
An elephant never forgets, and that's what Evernote promotes with its fantastic note-keeping and task-tracking software. Download it for your PC, MAC, phone or iPad and keep track of all of your notes as they automatically synch and update to the latest versions – wherever you are. Jot down thoughts, ideas, notes, to-do-lists and reminders to check up on later, record sound with your phone, and share everything with colleagues or staff with shared notebooks. It also supports real notebook writing too – investigate the Livescribe and S Pen option for an optimised, modern notebook that really delivers.
Get started at Evernote for free here http://evernote.com/
Updated on January 5th, 2014