Social scheduling apps: how to avoid sounding like a robot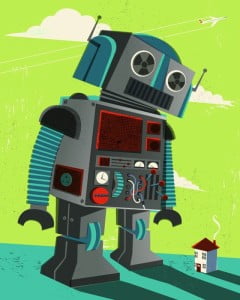 Scheduling apps like Buffer, Hootsuite, IFTTT and others are a fantastic way to save time and still utilise important social media channels. They do all the hard work for you by choosing the right time, finding the right audience, and topping up your social shout-outs so you don't have to. So how do you make the most out of them and still save time and energy without sounding like a robot?
It's not as hard as it sounds.
1.       Add a personal comment
If you've found a link you want to share but you're saving it for later, add a simple personal comment that will sound less robotic then a simple copy+paste of information. It could be as simple as a phrase like "What a fantastic article!" or "You MUST read this today" or could be a short but effective commentary on why you decided to share the link. It takes very little time and will make your buffering much more effective.
2.       Linking up your Facebook and Twitter accounts? Remember this when posting
One popular scheduling feature that many companies use is to link their Facebook pages with their business Twitter account. That means, every time you post something on Facebook, it automatically goes to Twitter or vice versa, depending on the link you've established. It's important to remember that you have this set up when you're posting content on your Wall, or tweeting about a competition. Not everyone will understand that the two accounts are linked and it can be confusing. Bear it in mind when posting content one social network, and your automated scheduled tweets or posts on the other will sound more natural.
3.       Schedule things that you don't want to remember
Use IFTTT to schedule posts, tweets and other updates about things you don't want to remember: posting a blog post today? Don't worry about sharing: IFTTT can do that for you. Build a careful and clever recipe that grabs the meta description and title plus a link when sharing and that's one less thing you have to worry about. Configure your social scheduling apps to share content the way YOU WOULD if you were doing it manually.
4.       Listen to your social scheduler's suggestions
Using Buffer or Hootsuite? These programs both come with built-in auto schedule systems which determine the best time of day to post your content based on your followers' or fans' activity. They check when your audience is most active and most likely to respond and will auto-schedule your posts, tweets, comments and more to fit this schedule. That means that you're not sending out content when your audience is asleep – and the content that is going out appears to have been written by you in real time.
5.       Mix and Match
Independently, each of these social schedulers are fantastic applications. Together, they're a powerful tool that will that will transform the way you share content and completely minimise the "time suck" you so often hear about with social networks. Buffer is a great way to add in shared links and content to fill up empty spaces, while Hootsuite lets you actively target individuals with @ sharing, and IFTTT can link up all of your networks so you can make the most of your social activity. Mix and match your favourite applications – or have your virtual assistant do it for you – for the best social community that requires the least amount of ongoing effort.
Updated on January 5th, 2014