Outsource Your Graphic Design to a Virtual Assistant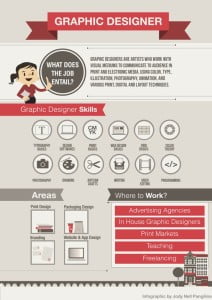 With graphics and visuals taking centre-stage in the marketing world, hiring a virtual assistant that specializes in graphic design could elevate your brand and boost your profits phenomenally.
"Something is happening. We are becoming a visually mediated society. For many, understanding of the world is being accomplished, not through words, but by reading images." —Paul Martin Lester, "Syntactic Theory of Visual Communication"
Depending to what extent your business is reliant on vibrant, exciting graphic design for mail-shots, flyers, presentations and adverts will influence how you choose your virtual assistant via their specific skill-sets. A skilled virtual service professional may have many talents!
Perhaps, for example, your day-to-day graphic-design requirements are fairly simple, in which case a VA with a basic grasp of design and a relevant program may be all you need. Many virtual assistants are hired as 'generalists' and can work across an entire range of tasks, from billing to content-writing to basic graphic design. However, if you need something more conceptually dynamic like a re-branding or revamped logo, then hiring a VA that is solely a graphic designer – and qualified as such – will definitely be the best choice for your business.
There is nothing more disappointing for a potential client to discover, for example, that your website is bland, stale and out-of-date. The effect of this visual disappointment is so strong and long-lasting that it is often enough to drive them away and into the arms of your more graphically au faire competitor. The power of graphics and imagery is incredibly potent – touching both mind and heart. In fact, images/graphics possess so much power that it can make or break your client's first impression of you. And that critical first impression is definitely something you need to invest in, even if it means outsourcing to an expert.
Graphic-design programs such as Adobe InDesign and Photoshop are incredibly powerful creative tools when it comes to creating marketing visuals that WOW, but the key lies in hiring a qualified and talented VA to get this work sizzling and snapping off the page or billboard! What's great about outsourcing your graphic design work to a VA is that they have already have these superb programs – so there would be no need to buy it, install it on a powerful enough computer and send yourself on a design course! Trained graphic designers work quickly and effectively. They work from a foundation of experience, a strong grasp of current graphic design trends and exhibit sheer, raw talent. What might take you days as a beginner will take them minutes as an experienced professional. It's a cost-effective and time-effective use of business resources.
If you want to elevate your company profile and visibility through cutting-edge graphics that are guaranteed to turn heads, hire a graphic-designer virtual assistant with extensive industry knowledge and a portfolio that knocks your socks off. You get the best of the best at affordable hourly rates. If you feel you're already on top of your graphic-design game and you just need basic skills or an extra set of helping hands, then hiring a virtual assistant with basic graphic design skills will set your mind at ease, knowing you can leave flyers, emailers and the like in their capable hands without having to invest in long-term contracts or additional office equipment.
Updated on December 9th, 2022