Keep on top of the Latest Content with These Apps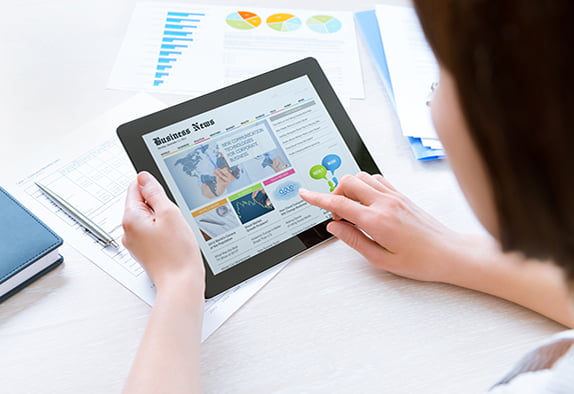 Whatever industry you work in, staying on top of what's going on in your area through daily news, keeps you in the know. It helps you stay ahead – or on the same wavelength – as your competitors, and allows you to change your game plan if required, especially in the case of new research that can affect how you work. There are so many websites and news outlets out there, so how can you possibly know which ones to check daily, and more importantly which ones are going to deliver the greatest content? We've gathered together some of the best current apps in the market, that not only offer a unique way to get the latest content, but an intelligent delivery that knows what you want.
Flipboard is becoming one of the most popular apps for discovering fresh and interesting content, and it certainly delivers what it set out to do. Allowing you to choose areas of interest to you – from lifestyle to business and history – Flipboard delivers content from major online publications, award winning blogs and other sites across the web to bring you current content. It includes curated online magazines, audio and video and stunning photography to really bring the app to life.
There is also the ability to add your own social feeds to keep up with these on the go, and there is a search functionality allowing you to search for things that matter to you. You can create your own online magazine for your favorite content, and save stories to read later and collect what you love. We love the beautiful design and Flipboards ability to allow you to discover content that you can easily miss without this wonderful app. It is completely free; what more can you ask for?
Prismatic is a little different than your average news app, initially delivering content based on what you view through your social sites and tracking your viewing behavior to create a feed based on each user's personal interests. It looks for common threads – such as discussing recipes, or playing sports – and analyzes the data to recommend topics that it thinks the viewer will like.
Once you have chosen a few set topics, it regularly tracks down things you will like from all over the web and presents them for you in an easy to read format. You can then state whether you dislike specific content or find it interesting, and also then share it too. With over 10,000 areas of interest to follow, you are bound to find what you're interested in and maybe discover new topics along the way too when the app suggests interests for you. Free for all users.
StumbleUpon is an oldie but a goodie. It's a very clever tool that finds content for your interests based on what you look at and like on the web. Installing a StumbleUpon browser tool allows you to 'like' or 'dislike' content you find on the web. You do not have to do it for every website you come across as this would be time consuming, but every time something really grabs your attention, give it a 'Like'. The more you do it, the more StumbleUpon will get to know you and what you're into. Pressing 'Dislike' also works, preventing certain topics from being shown to you.
When you are ready to 'Stumble' on the interface, the algorithm takes you to a site or list based mostly on what you have liked in the past. It can be random, or you can select by category too, such as Business, Social Media or Finance. It is a fantastic tool to find things that you just won't always find through other channels. Free and available on computers, tablets and phones.
Updated on June 19th, 2020