Introducing Sqwiggle: Making Remote Working Easier For Teams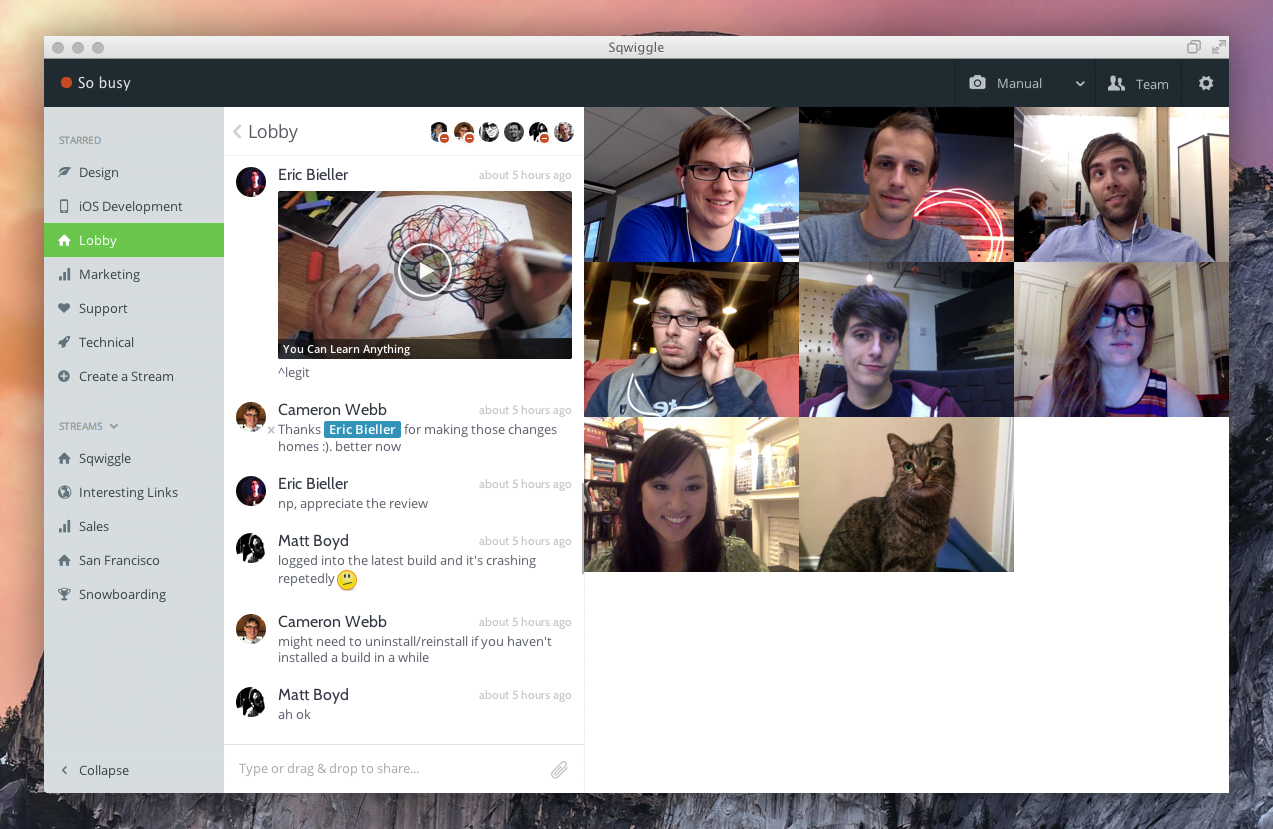 When working with large teams across the world and remotely, it's easy to feel disconnected from them when there is such a distance between you. Sqwiggle, an exciting company based in San Francisco, is attempting to change this. If you're ready to experience a fast and easy way to stay in close contact with your team no matter where you are in the world, read on to see what Sqwiggle is all about.
When you work away from your co-workers – whether you're a remote worker or a CEO who is frequently on the road – you need to stay in touch with your team. Tools exist to chat back and forth – email, Skype, Facetime and so on – but they lack the 'tap on the shoulder' office experience, and a reliable face-to-face feel that remote work often needs to keep a business relationship effective. Many existing tools suffer from slow connections or background noises, which isn't ideal for a reliable business conversation.
Sqwiggle has managed to tick the boxes that others simply don't. It allows the program to run in the background while you're working, and be quickly connected to team members as and when you need to within your and their own workroom. To connect you simply need to click someone's face and be connected without the need to wait for an answer, which can be compared to turning to face someone in the office and saying hello…it is that simple. When you're not talking to someone, they will appear as a black and white still photo which is frequently updated.
When seeing your team is important to you, working remotely can make this difficult, but this tool allows you to have a constant presence. More than one team member can be connected at any one time too; this is great for group chats.
File share frequently? This option is very limited in other online chat functions, but Sqwiggle allows a secure file to be uploaded and shared with intended recipients. The program also uses minimal bandwidth throughout the day, so it can run without you having to worry about the internet bandwidth being over consumed. There is also a team chat function where topic streams can be created, media shared and files shared between team members. This is an ideal option if you don't need the video function all the time. The team are also currently working on screen sharing, which will be a fantastic additional feature.
Sqwiggle pricing starts at free for one user with 1-on-1 video chat, and then $9 per month for up to 10 people and additional storage. This then goes up to $25 per user per month for unlimited group chat and larger storage. If you work remotely or are regularly on the move away from your team, check out Sqwiggle and watch the changes it will make for your business.
Updated on June 19th, 2020