Improve Your VA's Results with Clear Communication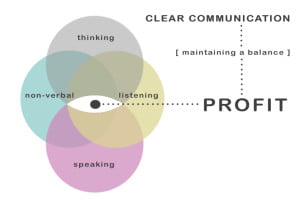 When you break down what drives businesses onwards and upwards – or causes companies to go under – the result is: communication. Whether you're working with support staff or a dedicated virtual assistant, clear internal communication is essential to ensure business success and company growth.
So, what exactly does 'clear communication' entail, and how do you go about making sure that it happens in your business?
Here are five steps to achieve clear communication with your virtual staff:
1.  Make strategies concise and clear and prioritise priorities!
VA's are only able to make smart, snappy decisions if you have explained with explicit clarity what their priorities are, as well as presenting a clear, concise strategy.  Provide a clear list of to-dos, and make sure that your VA understands what needs to be done first.
Too many priorities = not enough structure
2.  Exactly define roles, responsibilities and process
Confusion is another time-waster and by dint, profit-preventer. Clarity is everything so be sure to exactly define your VA's roles, responsibilities and processes. Make sure that you provide this to your VA in writing so that they may refer to it in the future.
3.  Talk with your VA
Text-based communication such as emails and instant messages will never beat the clarity that face-to-face and voice-to-voice communications bring to the virtual table. Besides the time wasted by back-and-forth typed communications (voiced meetings happen significantly more quickly), it can be frustrating when one of the writers is unskilled at communicating effectively via the written word.
When initiating a relationship with your VA, it is important that you make time to speak with them. Being able to hear and/see the understanding in your VA's eyes, facial expressions and voice is proven to boost productivity and profits. Video conferencing, Skype and telephone provide excellent tools for doing this if your VA is located in another country.
'There's still no technology more powerful than an actual meeting of minds.'
4. Schedule regular check-ins
Arrange to have regular check-ins to give your VA the chance to ask questions and for you to listen carefully and answer clearly. If your VA is good with communicating via the written word, 15five could be a useful, time-saving tool to make sure that your VA is on target and grasping your expectations with zero confusion.
5. Trust but verify
An effective communications/clarifying tool is to ask your VA to verify their receipt of emails and "open your door" for them to ask questions and give a progress report to ensure you are certain whether they're on track or not.  Another useful tool is to ask them to summarise or repeat back your requirements. Show that you trust them, but ask them to verify for business purposes.
Updated on April 13th, 2016