Going Mobile: Working with a Smart Phone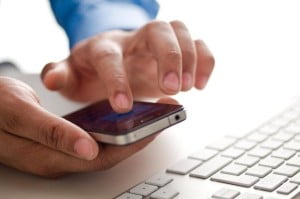 Ever since its inception, the mobile phone has been a convenient business tool, but gone are the days where it was only useful for voice communications on-the-move. Now that smart phones have internet browser functionality as well as customizable applications, there are many ways a phone can boost your productivity. Here are some of the ways you can ensure that you are making the most of your hand-held device:
Install time-management apps – A good smart phone calendar app help you to keep track of business meetings and other events.  Many smart phones come with calendar programs installed already, but there are useful calendar apps for businesspeople who require additional functionality or who simply desire a more intuitive interface.

Get Dropbox to simplify file management – Many computer and laptop users install Dropbox in order to backup and share photographs and documents easily. Smart phone users can also obtain the Dropbox app which makes sharing files between devices (or texting links for important files to associates) a breeze

Get Skype for more Communication Options – While mobile to mobile calls are convenient in business communication, Skype opens up many additional possibilities. VoIP (Voice over IP) enables Skype users to chat to business associates in other countries for a fraction of the cost of ordinary calls, by using internet data instead of the usual call technology. Because Skype is cross-platform, users can easily communicate with co-workers who are running Skype on desktop or laptop systems via text or video calling

Get a fully-featured Word processor – High-end smart phones often come with basic office applications pre-installed, but many free apps are limited to reading only. A word processor which enables you to open multiple file types on-the-go, and which also allows you to make edits, is useful for everything from composing and revising business correspondence to taking complex notes for later reading.

Use your mobile to scan important documents – When you need to capture a paper document quickly, you can use an app which turns your smart phone into a portable scanner and optimizes captured images for improved text legibility.
For many, the smartphone is an essential business tool that enables you to work on the go. Whether you're running a small business and you have to work while attending to personal commitments, or you're running a large business and you have to work while travelling – smartphones liberate your work lifestyle in a way that we could previously only imagine. Make the most of your smartphone's features and facilitate a mobile work environment that goes everywhere you go.
Updated on January 5th, 2014