Get a Dedicated Developer for your Business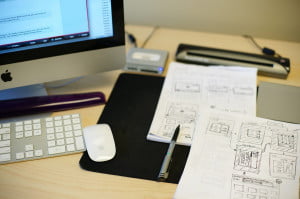 Is it time to overhaul your professional website and give it a sleek new look? A designer can put together a layout and can create graphics that will give your site great visual appeal, but the talents of a developer are essential for making a website 'click'.
Have a great idea for an app? Your developer is the person who is going to make that idea a reality.
As with all great ideas, there is often a greater cost to make it happen. Hiring a full-time developer can be really expensive – especially if you want the best. The advantage of hiring an experienced and talented coder on a temporary contract is that you do not have to worry about budgeting long-term salaries or equipment expenses which can quickly escalate into the tens of thousands.
Developers who are proficient in HTML or other coding languages understand the architecture of a website or the inner workings of an app – the way individual bits of code fit together to create an effective end result. Outsourcing web design and website maintenance makes it easy to keep your website up-to-date, so that it looks and functions the way it should.
Many companies find interns who are keen to gain experience. It might save a little bit of money to obtain the services of a developer for free, but hiring one who is experienced in doing contract work leaves in-house staff free to focus on their own projects instead of training the newbie. Experienced developers are already equipped for solving difficult problems and sorting out coding bugs efficiently. This is essential when you need a website fix that works.
Aside from the administrative hassle of adjusting payrolls and organizing company benefits, hiring a full-time developer increases company overheads: you need up-to-date software, computer equipment and peripherals, and the latest technology for testing. Outsourcing tasks to a competent developer avoids increased business expenses. While big businesses might be able to afford additional staff, contractual developers' services are especially useful to start-up companies that have to make prudent financial choices.
One of the advantages of hiring a developer through a company which offers virtual professional services is that the developer you are assigned will already have been vetted for fluency in coding and good time management. The job hiring process is time consuming, whereas finding an individual whose credentials are certain means that you can get your website in shape faster.
The last thing any company wants is for visitors to its website to be deterred by broken links or out-of-date content. Developers' skills are essential for keeping information up-to-date and for keeping website navigation effective. Using an on-demand developer is an excellent resource for your business; whether you need to build custom landing pages, set up an affiliate-tracking system, develop a new email template for your mass-mailing, or create new website pages.
Updated on January 5th, 2014