Freshbooks: keep your virtual team billing simple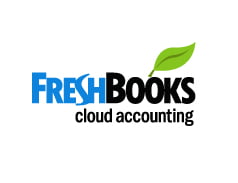 Freshbooks is a cloud-based accounting package that takes the hassle out of keeping track of invoices, business books and expense documents. It offers you the flexibility to work from anywhere with the reassurance of straightforward software that does what it says on the box.
This clever piece of cloud-based software lets you take the worry out of your monthly accounting by giving you access to simple templates, easy-to-use filing systems and clever tracking tools that do all of the hard work for you. You just need to fill in the details and you're one step closer to being more organised.
If accounting gives you nothing but headaches, and you'd rather be doing anything else than worrying about a trial balance, Freshbooks could be the answer for you. You can sign up for free here.
Freshbooks and your business
Freshbooks will help your business in a number of different ways:
• It will let you stay on top of your invoicing and expenses with just a few clicks of your mouse. You can also access accounting reports and taxes information which will show you profit and loss, as well as give you at-a-glance information about your business's finances. You don't need to worry about filing or making sure you have everything covered: with invoice prompts and reminders, Freshbooks makes sure that you cross your ts and dot your is.

• "Paperwork" is a thing of the past with online invoicing, online payments and stored online transactional details. Your books are now stored on a cloud filing system creating more space in your office, and less physical paperwork to get through. Everything is stored digitally, and is easily printed if you want a hard copy.

• You can get paid quicker with online payment facilities. Freshbooks supports PayPal, credit card payments and a number of other payment gateways. It will also send out automatic payment reminders, and can handle recurring invoicing and automatic payments to minimise your admin.
Freshbooks and your virtual assistant
Aside from being good for business, Freshbooks is also very useful for keeping track of your virtual teams and managing all payments and billing associated with part-time virtual assistants.
Your virtual staff or virtual services company can:

• Invoice you online for easy payments and clever invoice storage. They send you an invoice through Freshbooks, you pay it. It's that simple. You can keep track of all of your invoices, and it automatically figures into your trial balance and other reports.

• Keep track of any hours they work using the built-in Freshbooks time tracker. This is especially useful if your virtual assistant doesn't work a set number of hours per day or week. You can see what they're doing and how long it is taking them to do, and you can make a decision for future work allocation based on that data.

• Keep track of any incurred expenses by uploading scanned images or PDFs of their receipts. If you need your virtual assistant to make any purchases on your behalf and you will reimburse them for their expenses, they can keep track of everything online using the Freshbooks Expense Tracker. This is especially useful for digitising receipts and other data that you may need to find again later.
Here at Boldly we use Freshbooks to manage our virtual assistant teams, but we've also got industry experts on-hand to help with any other accounting-related matters. If you like the idea of accessing your accounts online but you'd rather have someone else manage the books,  we also offer a number of professionally-trained accounting and book-keeping service assistants who can manage these for you and help with any other accounting tasks you might have.
Updated on January 5th, 2014