Christmas Gift Ideas For Entrepreneurs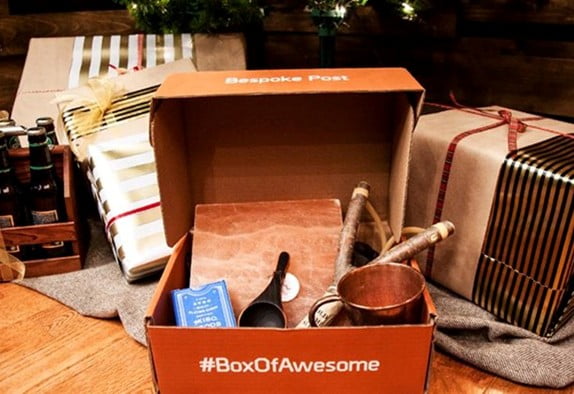 Christmas is only a few short days away and if you still have presents to buy, the panic might have started to set in. There are always a few people who are difficult to buy for, and in between meetings and phone calls you're racking your brain on what you can buy – sound familiar?
For any entrepreneurs that you know, clients or work colleagues, often it pays to step away from your traditional presents and give something a little bit different. From stationery and snacks, to the gift of time with a twist, we've gathered together a list of five gift suggestions that might just fit the profile of who you're looking to treat.
When you're a business owner, days can be all over the place and eating on the go isn't always easy. Healthy snacking in between meetings or flights is much better for your health than not eating at all, and much more wholesome than fast convenience food that it's very easy to go for. That's why Graze Box is a perfect gift for Entrepreneurs.
Started by friends in the UK who were fed up of average snacks, they created a healthy snacking delivery system for busy health-conscious people. Now in the USA and thriving among offices, Graze will delight friends, business partners and co-workers at Christmas. Gift vouchers are available from $20.97 for three deliveries up to $349.50 for 50 deliveries.
Once their voucher is redeemed, gift recipients can log in to an online account that allows them to select the sort of foods they would love to get, as well as anything that doesn't really take their fancy. From there, they can select the frequency of box deliveries and await the arrival of four nutritious boxes of snacks in each delivery. All healthy and nutritionist approved, an ideal Christmas gift.
There's something everyone wants more of: time. If you're struggling to find an ideal gift for someone important to you (especially if they already have everything they need), time could be an ideal solution. If you know anyone who is very busy or someone who never seems to take a break, a Virtual Assistant could be a very welcome and appreciated gift.
Why are they such a great gift? With a skilled VA to help a business owner, they can free up their time to focus on the things that they can do or the things that they enjoy doing, while a VA handles other important tasks that can be done virtually…from all things admin (both business and personal), to marketing, customer service and project management. At the heart of it all, they help give people time that they really need. With several gift options available depending on what they need, we'd love to have a chat to see what we can do to help the lucky person you're looking to treat.
If you're looking for a gift for a male friend or colleague with a real edge, Bespoke Post could tick every box. Their main service offering is traditionally a monthly subscription, sending recipients a themed box with things such as coffee, shoe care and grooming. While these subscriptions are available as gifts, they also offer gift cards and a one off box.
Boxes include 'Refresh' and 'Weekender', ideal for business travellers, and 'Slate' for food lovers, as well as several other great options. All individual boxes are $45 and are perfect for offering a gift that is unique and for someone who is pretty difficult to buy for. If you buy a subscription over several months and your recipient doesn't fancy the contents in any given month (in their 'Box Of Awesome', as it is named) they can skip a month making it very tailored towards what someone really wants in a gift.
For the eco-conscious person in your life, Conscious Box might be a winner. Delivering healthier choices each month in the form of food, bath, beauty and home products, they're all GMO free and are supporting ethical companies in the mean time – a real bonus. Boxes are either Classic, Vegan or Gluten Free (for anyone with special requirements) and each delivers samples of great products from all over the country. If the samples are loved, people can then can get discount of a full sized version.
A gift that really can keep on giving, you can buy a one off box for $19.95 or select a 3, 6 or 12 monthly plan.
For anyone who loves traditional hand written letters or simply adores beautiful stationary, OliveBox could be a perfect Christmas present. Traditionally delivered monthly, one off gift boxes are also available and contain stationary and books – a present that is completely different to the norm.
Delivered through the mail with a handwritten gift note to your recipient, if you decide to gift a one off box there are multiple options to choose from depending on who you're buying for, from a 'Get Things Done' box (ideal for the busy businessperson), to the 'Wishing Comfort' box. Individual one off boxes cost $35, or if you want a gift subscription that lasts several months, prices vary.
Updated on June 19th, 2020