Accept Payments from Anywhere in the World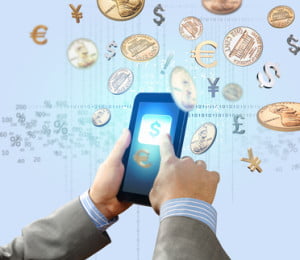 Many entrepreneurs and small businesses limit the payment options they offer to customers because of the expense, the risk of fraud and the additional bookkeeping involved with accepting credit card payments. But with advances in technology, especially mobile technology, accepting credit cards and online payments from anywhere in the world is not as burdensome and costly a process as it used to be.
The Small Business Administration reports that credit card payments are becoming the most common method of payment, not just for traditional B2C, but also for B2B because of convenience and flexibility. Accepting credit cards often benefits businesses with easy and flexible payment processing, increased sales, improved security and automation, and improved cash flow.
Easy and Flexible Processing
Financial software associated with credit card processing services provides a variety of ways to accept and process payments. For businesses that sell at conventions, street fairs, and exhibitions, accepting credit card payments with mobile devices can enable them to take care of customers instantly without a bulky cash register. When a company accepts payments online, it expands its reach to customers world-wide.
Increase Sales
An Intuit Inc. GoPayment survey recently showed that just over half of U.S. small businesses don't accept credit cards. Intuit estimates that a business that doesn't accept credit cards loses about $7,000 in sales per year. Credit card payments represent more than just sales, though, as they can also improve cash flow with immediate payment rather than the delay of checks and lengthier credit terms. Intuit's survey also found that more than 75 percent of businesses that accept credit card payments make at least $1,000 more per month, and 18 percent make as much as $20,000 or more per month. Those surveyed said that credit card payments help them get paid faster and reduce bad debt.
Security and Automation
The Small Business Administration reports that online payment options enable businesses to sell to any customer with an email account, and are more popular with businesses and customers because of mobile and internet technology. Online payments and credit card payments offer security and automation to a business' payment processing. Automatic tracking and authentication in payment processing software makes it easy even for home-based businesses to offer products and services to customers around the world. In addition, virtual shopping carts calculate total, tax, and shipping in a fast automated process that makes the shopping that can simplify bookkeeping.
How to Choose an Online Payment Processor
There are a lot of things to consider when deciding to add online payments to a business. The cost of transactions is a main factor, but Marco Carbajo of Business Credit Insiders Circle suggests paying attention to lower fees and looking for providers who charge less than .36 percent. He also recommends choosing a provider that helps build business creditworthiness by reporting a company's repayment history to major business credit reporting agencies for the most return on investment.
Updated on January 5th, 2014