5 virtual productivity tools for organising your work processes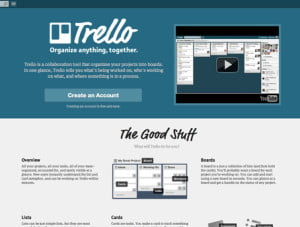 Running a business takes up a lot of your time, so it's important that you organise your work processes to ensure that you're making the most of your time. Thanks to clever thinking and virtual productivity tools, you can now keep on top of things as you make lists, create to-dos and keep everything organised – all at the click of a button
Take care of the pennies, and the pounds will take care of themselves. This money-saving principle is applicable to your business too. Manage your processes and increase your productivity in the workplace, and let your big ideas grow to make your business better.
Want to get started? Here are five virtual tools that will help you organise your work processes and achieve your goals.
To-do lists just got virtual (and much easier to organise) thanks to Remember the Milk. This task management app is available across multiple platforms, and lets you create multiple lists that are available on the go. You don't only have to "remember the milk" – this app lets you remember which emails you need to follow up on, which tasks are pending, what you need to fetch, products you need to re-order for stock and other handy business tasks or lists. With multiple add-ons and clever features, you can integrate RTM into your Outlook and Gmail, you can capture music information to store for later, you can delay email sends, and you can further sort these to-dos into manageable lists. It's no wonder that this simple FREE application has over 4 million users.
2. GoToMeeting 
Any business operator will tell you that meetings take up more than 70% of your time at work. Whether it's meeting with shareholders, meeting with investors, meeting with staff, or meeting with clients. GoToMeeting lets you virtualise the entire process with a simple internet-based call incorporating video conferencing, screen-sharing for demonstrations, and recording abilities that let you capture your meetings for later reference. Now you can eliminate travel time and meet clients from your desk for efficient, productive meetings that have all the personal hallmarks of face-to-face encounters. This paid-for service is available on a month-to-month basis lets you invite up to 25 attendees to each meeting at no extra charge.
3. Trello 
Trello is project management made easy. It works on a simple Pinterest-like interface that allows you to manage your projects with a series of tasks and lists. You can share your "boards" with other users and your staff or colleagues, and you can create discussions, upload images, leave comments and create a virtual discussion environment. Tasks and lists are easy to manipulate, and can help you optimise your work flow processes with a fully virtual project management environment. Trello is a browser-based application, and is free to use.
4. SaneBox 
If your email inbox is full of newsletters and you find it difficult to filter through the "real" messages after a day out of the office, you need SaneBox. It's an email application that will automatically sift through all of your email messages to determine which ones are sales-based, or newsletters, and which ones are real communications from clients, colleagues or friends. It filters the less important items into a "read later" folder so that you can get stuck into the emails that matter in your inbox.
5. LastPass
How much time do you spend trying to remember the passwords for all of your online services? What is your corporate Facebook password? What's the WiFi password? What's the password for that shop you used once to buy office supplies? LastPass is like a universal remote for your passwords. Installing the browser plug-in lets you use one master password to control and manage all of your passwords for all online applications and stores. Log into your account and store your information for each site only once – then let LastPass do the rest for you with passwords, stored information, delivery details and more. The best thing about LastPass is that it is online and account-based, so you can log into any device or computer and all of your password information is automatically available to you.
Updated on May 8th, 2018