3 Essential Apps to Reduce the Stress of Business Travel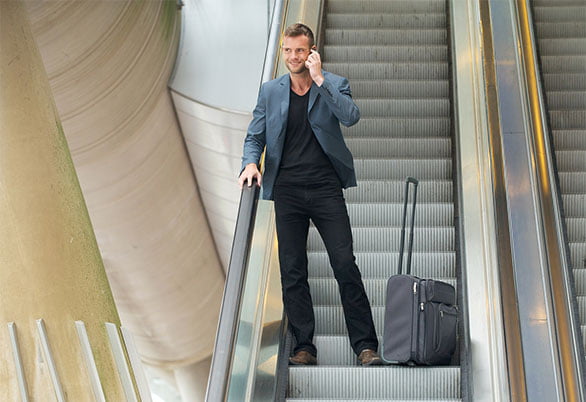 When you travel regularly for business, it's crucial that you stay organized when you're on the move. Last week we discussed tracking your expenses when you're travelling, but what about getting from A to Z easily, and keeping on top of things as you move? Ideally flights would arrive and depart on time, subways would run like clockwork and you'd simply be able to walk into the first restaurant you came to in a new city and have the best food you've ever tasted…but this would be somewhat of a perfect – and rare – day for a business traveller. We've gathered together some of the best current apps on the market that will keep you impeccably organized as you travel; keep your phone or tablet close at hand, and enjoy your smoother journey to your destination…
If the airport is becoming like a second home, your worst enemy can be the flashing red text on the departures board that says Delayed. Rather than gather around the board waiting like everyone else, track all details on your phone instead. FlightTrack covers 1400 airlines across the world, and more than 3000 airports. You simply add the details of your flight and it does the rest, sending you live statuses for your flight number, any information on delays, and – the dreaded one – cancellations.
Push alerts on the app keep you updated even when the app is shut, and delays can even be predicted with warnings from other airports. When they are available, you can track the flight path of the plane you're waiting for and check the weather of where you're headed to. The app allows you to save information about your seat numbers, and tells you what is available on the plane too, such as Wifi Connections. Tracking a co-workers flight? Add their flight and know when they'll be arriving. With a $4.99 price tag, it's worth its weight in gold.
Working in many major cities across the globe, HopStop provides you with live information about public transport; perfect for getting you from beginning to end without the fuss, especially in a city you're not familiar with. Put in where you're at and where you want to go, and it will direct you to the best transport option, as well as estimating travel time and costs you will incur.
The app displays official maps for things like the subway, and if you're heading to NYC, San Francisco, DC or Chicago, it offers biking directions too. What offers a little touch of brilliance to HopStop, is that users can add details about live events such as delays or crowds, allowing you to see ahead of time what's going on, and alter your route accordingly if need be. Gone are the days where you have to navigate Google to figure out what bus or main line will take you to your destination; this app has you covered. One of the best parts about it? It's free.
When you arrive at a new city after a long flight, the last thing you want to do is try to navigate an often unfamiliar place with little knowledge of the local eateries. The solution? OpenTable, an app for residents of the US, Canada and Mexico that features over 20,000 recommended restaurants. The app allows you to choose a date and time, select how many it is for (ideal if you're with colleagues), and see what is available. You can narrow the search down by cuisine, or location (near your hotel would be perfect), as well as by rating and price.
Once you have found somewhere you like, the app lets you reserve it within the interface, effectively allowing you to schedule a table hours in advance. Reviews are added by users as well as photos, adding further reassurance to where you'll be dining. Meeting colleagues to dine? Invite them to join you via the app. Free to use.
Before getting to your final destination, what if you can't even find the time to plan your own travel or business flights? A high grade virtual assistant can help you here; from searching the best flights for your needs to booking your preferred seat on a plane, a VA can make your travel easy and carefree, saving you the hassle of doing it yourself.
Updated on June 19th, 2020