Your new Virtual Assistant and Skype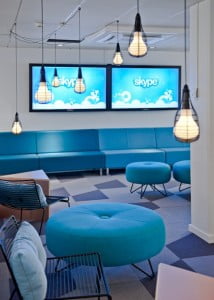 Skype is a fantastic tool that lets you stay in touch with other Skype users anywhere in the world. You can be in Britain and call someone in Barbados for no cost at all, and you can send instant messages to each other with only a few keystrokes.
It's a simple bit of software that you can download for free from the Skype Website. Then, install it, sign up for an account, and get started. You choose your own unique Skype name when you register for an account, and you can share this Skype name with other users to establish a contact with them. Once you have someone added as a contact, you can call them, type instant messages to them, or video conference with them for no cost.
This helps you to communicate with your virtual assistant more regularly without fear of incurring additional communication costs and gives you more of a hands-on approach to working with virtual staff. They may not be in the same building, town or city as you but they are instantly and easily accessible by message, phone, or video in just a few minutes.
What you need:

• you need your own computer, and a reliable internet connection to effectively use Skype

• you will need to download the Skype software

• if you want to use voice or video calls, you will need speakers and a microphone with an optional webcam
Skype is also available on mobile devices such as mobile phones and tablets, and can be used on the go as well as in your office. Many large companies use Skype business to call landlines at a reduced rate, and to keep in touch with their virtual staff who could be located anywhere in the world.
How you should be using Skype to communicate with your virtual staff
Adding your virtual assistant as a Skype contact automatically gives you instant access to them whenever they're online. This helps to reduce the distance from miles to milliseconds, lets you instantly communicate with your off-site staff, and allows you to quickly get a response for any urgent issues.
You should use Skype to:

• set up regular Skype meetings with your virtual staff to find out how they're getting on with the assigned tasks, and to provide guidance and support wherever possible.

• use instant messaging to communicate quickly with your virtual staff, but be sure to use the correct etiquette such as greetings and thanks as you would with a "normal" telephone conversation.

• communicate with your virtual staff within the agreed working hours, and send e-mails or other communications outside of that time frame.

• before calling or video conferencing, make sure that your virtual assistant is comfortable with having a conversation. Many virtual professionals work from home or from a shared office, and they may need to arrange "quiet time" with family or colleagues before initiating a Skype video call.

• use Skype video to meet your virtual staff face-to-face and provide any training required if required. This is a quick and easy way to show what
Updated on December 12th, 2022