Using Trello to Collaborate With Your Virtual Assistant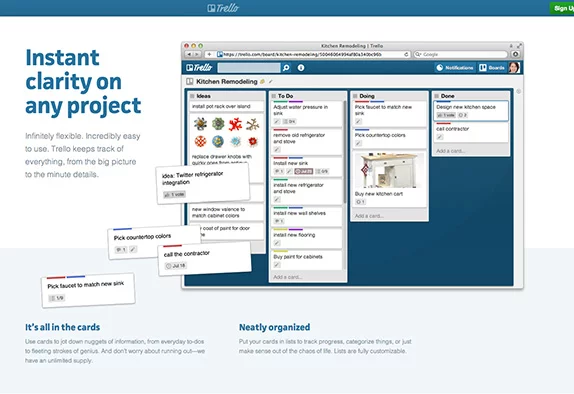 Cloud-based project management tools are a great way to keep track of project deliverables, including who is responsible for them, and when they are due.
Trello is a free, collaborative tool that allows you to keep track of different projects using boards. You can invite different team members to each board, assign and track the status of tasks, and set due dates. Let's take a look at how to get started with managing tasks in Trello.
How To Create A Board For A Project And Organize Lists
As an example, let's assume that your virtual assistant is helping you with your social media and marketing strategy and execution. In this case, you have two overarching projects and would want to create two boards: one for marketing strategy, and another for marketing activities.
Creating a new project (or board) in Trello is simple. Just click on the plus sign in the upper right corner. Select Add > New Board, and then enter the project name, such as Marketing Strategy, as the title.
By default, Trello will create a board with three separate lists: To Do, Doing and Done. These lists can be customized if desired, but I find the general structure works well for most projects. Some projects might merit an additional list such as Ideas, which can be done by selecting Add a list. I use this additional list for ideas that my team has come up with but that we are not quite ready to move forward on.
Invite Your Virtual Assistant To A Board
To add a team member, simply click on Add Members and enter your virtual assistant's user name or email address if he or she is not yet a member of Trello. They will instantly be added to the project.
Adding And Assigning Tasks
Now we're ready to create tasks, which Trello calls cards. To do this, click on Add a card, which is found at the bottom of each list, and enter in the name of the task. For my Marketing Strategy project, my first task might be to ask my virtual assistant to complete a competitive analysis of my company's product versus a similar product on the market.
After we have created the card, clicking on it invokes more detailed features. Here we can enter a description for the task, and outline the objectives.
To assign the task to a virtual assistant, simply click on Assign, and add your virtual assistant to the task. I also recommend setting deadlines on tasks. To do this, select Due Date and choose a date and time from the calendar.
Additionally, I recommend clicking on Subscribe for tasks that are particularly critical. This allows you to receive email and push notifications (if you're using the iPhone, iPad or Android apps) when any change has been made to a card, whether it's a new comment or that the card has been moved to Done.
Trello has many other great features such as the ability to add attachments, checklists, labels, and comments to cards.
Setting Up A Process With Your Virtual Assistant
Having a process in place for your team members when they start working on a new task is important to always be in the loop of what different team members are working on. Ask your virtual assistants to move tasks from To Do to Doing. This will allow you to see what everyone is working on. When a task is completed, have them move it to Done.
Trello is a great tool for managing teams, especially when some team members are working remotely. It provides a high-level view of your projects and quickly and easily allows you to assign and track assignments that your virtual assistants are helping you with.
There are tons of other great features of Trello, but this should get you started with the basics. The best thing about it is that it's very intuitive with a drag-and-drop interface, so the best way to learn is to start exploring!
May 2022 Update: Times have changed, and Virtual Assistants with this level of expertise are now typically called Remote Executive Assistants.
Topic: Remote Executive Assistant
Updated on December 19th, 2022