Customer support and communication with Desk.com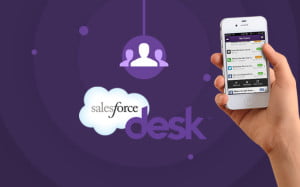 The customer is always right. That's why it's so important to maintain a high level of customer service at all times – and across all platforms as well. If your company has a social media presence then you'll get queries by email, Facebook, Twitter, and even by phone. As your business grows, so will your customer support team and it's important to have the right people doing the job. Hiring virtual staff gives you access to trained professionals with a proven track-record and you only pay for the time you use.
Communication is essential when working with virtual customer support teams, and one of the best ways to maximise efficiency while reducing administrative work is to use a clever piece of communication software designed to make things work better.
Desk.com is one of many software packages that allows you to manage all of your customer queries, complaints and recommendations in one place. Emails, Facebook messages, Twitter mentions or direct messages and live chat communications are all automatically logged in the Desk.com dashboard. You can also add in telephone calls and log face-to-face communications.
All of your virtual team's customer communications are logged, checked and recorded so that you know exactly what's happening with any customer at any given time.
Your customer communication is updated in real time, so your virtual customer support team can log in during their allocated shifts and deal with all of the queries quickly and efficiently – and you have a comprehensive and complete log of what happens on a daily basis and which agent is dealing with which enquiry.
Desk.com lets you outsource the most time-consuming aspect of maintaining a successful retail business, but you can still stay on top of things with Desk.com's features which allow you to sort out queries with prioritisation levels and allows you to assign certain issues to available agents. You can also message your virtual team from within the software (or app, if you're using it on your mobile) and you can make comprehensive customer notes on each case so that any future agents will be able to take over quickly without any complicated handovers.
Instant access and less admin:
• get a quick overview of what's happening at the touch of a button

• let your virtual staff deal with your customers quickly and efficiently to create a "dream team" of service professionals

• monitor progress and only deal with escalated issues

• Desk.com's Business Insights feature lets you monitor your customer support service with useful analytics

• multi-lingual support and Desk.com agents are available at an extra cost

• enjoy having more free time to focus on other aspects of your business!
Desk.com is available here. Registering one agent is free, so you can log in and get a feel for the software. After that, additional per-hour agents are charged at $1 per hour, or you can add a full-time agent for $49 per month.
Looking for an alternative to Desk.com? Why not try Freshdesk or Zendesk?
Updated on January 5th, 2014