Communication – How to find the right balance for remote working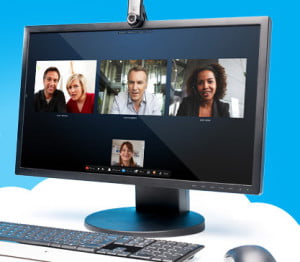 With over 70% of workers wanting more flexibility in where and when they work, and with small businesses continually looking to keep costs to a minimum – remote working continues to increase. Its no longer an exception to the rule.
Along with the benefits of reduced costs for office space and travel comes a new challenge: communication – How do you ensure your staff is performing? How do you make sure everyone works in synergy when they no longer work in the same room?
Apps, synced documents, messengers and cloud based systems will keep you in touch, in focus and often give you a boost in performance (87% of managers reported that their team's productivity increased by between 5-25% after remote working was introduced).
Below you'll find five tips on how to find the balance of being away from your staff and colleagues without feeling like there's a distance.
1. Skype – The ultimate remote working communication device. Easy to install and super quick to get up and running, Skype is an instant messaging service that also allows voice and video calls to one or more users. Having the ability to keep chatting to your colleagues as you work and pass ideas around not only stops you from feeling isolated but nurtures working relationships as you normally would.
Grab Skype here – http://www.skype.com/
2. Google Drive – If you need to work on a document alongside someone at the same time and avoid creating copies and ending up in a tangled mess, Google Drive will come to your rescue. A fantastic (and often free) option to have several people updating a spreadsheet for example or working on a proposal. You'll be able to see who's logged into the document at the same time, what they are typing or editing live and be able to communicate. A little gem when it comes to remote working – https://drive.google.com/
3. Trust – Unfortunately there's no app for this and often for employers it can be a tough one to accomplish, especially when taking on new staff. One way to build trust is to set up systems and procedures that make work progress transparent. Design plans, worksheets and sales sheets – documents that can be updated, monitored and used to share all manner of information. Business owners can easily see who's doing what and staff will feel like their achievements are being noted. Pay attention to keeping everyone in the loop so there are no overlaps or wasted time. Trello is a great way to keep organised and informed – https://trello.com/business-class
4. Keep it visual and audible whenever possible – Remember that some conversations should never be conducted by email or even instant message (we've all had an email misunderstood!). It is vital to communication, to building trust, and to relationship management to have regular meetings where you can see each other (at least via skype) and hear each other. Body language and tone of voice count for 70% of a communication.
5. Relax – The main benefit to working remotely is the freedom and flexibility, so don't cancel this out by being short sighted. If your office hours were 9-5 but your staff might want to start at 7am and have a 2 hour break during the day, focus on what that will do to their mindset and take advantage of the more positive place this will land them. 65% of employers noted that embracing remote working improved their recruitment and retention and on average remote workers spend 11% more time working than their office-based counterparts.
6. Mainstream is embracing it – The communications giant BT has saved over £220 million by changing their mindset and allowing flexible working.
When remote working is tackled right and with a realistic approach it can bring endless benefits to you, your business and your staff.
Updated on January 5th, 2014