3 Tools Your Virtual Assistant Should be Using to Track Online Analytics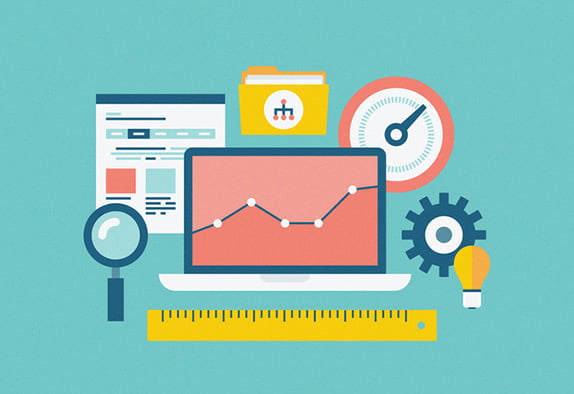 For small businesses, tracking metrics and setting goals both online and offline is imperative for success. When it comes to online activity, there are plenty of great tools that your virtual assistant can use to track and visually display website and social media metrics. Whether it's finding out how many people visited your website and where they came from, the conversion rate of people who purchased a product or service, or tracking a user's exact activity as they navigate through your website, seeing the cold hard numbers and statistics will allow you to benchmark your success, and determine how to further iterate upon your current tactics in order to improve the success of your website design, marketing campaigns, product pricing, and more.
Here are three main categories of analytics tools your virtual assistant should be using and why.
General Website Analytics
The most basic thing you'll want to have your virtual assistant track are the general statistics about visits to your website. There are many tools for this, but by far the most popular one is Google Analytics, which is free if your website generates less than 10 million hits each month. With Google Analytics you'll be able to see statistics on how many people visited your website in a given month, where — geographically — they visited from, and what pages are on average most popular with visitors. You'll also be able to see bounce rate — which is a percentage that measures how many people visit your website and then leave before exploring further, which is a good signal of how engaging your website landing page is.
Another statistic your assistant will be able to show you is the percentage of new versus returning visitors. Depending on your type of business, this could be a good measure of how well you're able to retain customers. For example, if you have an e-commerce website, you would most likely want to have a healthy percentage of returning users, otherwise it might signal that customers aren't overly impressed with value of your products, or the service they receive.
Another great feature of Google Analytics is being able to see how many people are being referred to your website through social media websites like Facebook and Twitter, and also the keywords visitors use to find you website.
Funnel Analytics
With Funnel analytics your virtual assistant can track the flow of traffic through your website. For example, they can tell you how many people visited your website and then clicked on the Sign Up link. Or, if you have three different pricing options available on your website, they can help you find out which one is the most compelling. For further granularity, you can also drill down to see how geographic location correlates with interest in the different pricing packages, etc.
While Google Analytics does provide some basic insight into the flow of traffic through your website, tools such as Mixpanel can provide much more fine-grained detail. Mixpanel will even let you drill down to an individual person's entire flow through your website. One drawback to the platform is that it requires some technical expertise to set up; there's a learning curve to setting up the platform and learning how to use it, and you'll need help from someone who has knowledge of a scripting language like JavaScript to get things setup.
Social Media Analytics
Outside your website, you should also be tracking the success of other online efforts. Whether your business has a presence on Facebook, Twitter, Vimeo, WordPress, YouTube, LinkedIn, Instagram or other social media sites, analytics dashboards will help your virtual assistant track how many people are following you and your growth over time, a rating for how engaged your followers are, and other statistics, such as information on your followers' age, gender and geographic location.
Conclusion
Of course, before embarking on this process, you'll have to decide what to track. You can easily overdo it and track metrics that don't have an impact on your company's success, what some people call vanity metrics — things like page views which might sound nice, but don't reveal whether your visitors are actually spending money or returning to your website.
The next blog post I write will cover the metrics that I like to track and how we extract them (based on an approach called AARRR! metrics), and will include a sample spreadsheet that your virtual assistant can use now to begin tracking your company's online metrics.
Updated on December 9th, 2022